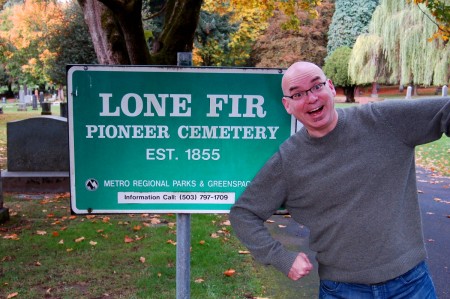 It's Portland's oldest burial ground. It's been listed by National Geographic Magazine as one of the world's top ten must-see cemeteries. And judging by the panties and malt liquor empties that we found during a recent daytime walk-through, there's no better place to seek your petite morte.
I'm talking about Lone Fir Cemetery, and tonight, for All Hallows' Eve, they're putting on their 7th Annual "Tour of Untimely Departures." We've been told to expect candlelit paths and undead tour guides haunting the shadows to regale visitors with bone-chilling tales of their more notorious residents' demise. But here's the scary part: There will be bagpipes.
Be afraid. Be very afraid.
Also, return to this site in a couple of days. If we survive the ordeal, we'll tell you all about it.