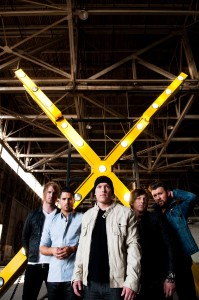 BEC Recordings' Kutless has announced the Kutless Military Mission Project. This is a partnership with Operation Heal Our Patriots, a project of Samaritan's Purse, that ministers to service members of all U.S. military branches.
"We have gotten to meet and interact with service members stationed everywhere from Alaska to Germany, and we are grateful for the stories they have shared with us," frontman Jon Micah Sumrall said in a press statement. "Hearing their struggles and stories of sacrifice has both inspired and encouraged us. We hope that our music continues to be a blessing and an encouragement to all of our countries' service members, but we desired to do more to try and help and impact those who have sacrificed so much for all of us. That is why we created the Kutless Military Mission."
The Kutless Military Mission Project includes a program to give away free concert tickets for active and retired military members and their spouses. Kutless will also be donating a portion of all merchandise proceeds to Operation Heal Our Patriots.
For more information on how to obtain military tickets for a Kutless show as well as more information on the project, visit http://www.kutless.com/kmmp.