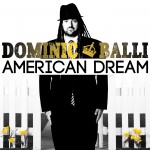 Whole Notes is giving away five autographed copies of the new Dominic Balli CD American Dream. All you have to do is comment on either the recently posted interview with Balli or here on this blog post. Any positive comment about either the interview or Balli's music will be considered.
We will then randomly select five of our readers to receive one of the autographed CD's. You have until Saturday, September 10th at Noon ET to make your comment.
To check out the Dominic Balli interview, click HERE.
To check out what you might have a chance to win, hear all the songs by visiting Balli's website HERE.