Click "Like" to share this with your friends!
In part two of the Whole Notes interview with P.O.D., lead vocalist Sonny Sandoval, we hear about a new ministry collaboration called The Whosoevers, Sandoval's thoughts on Brian Welch's amazing conversion and what's next on the band's agenda:
Bonham: You've got this new movement you're part of called The Whosoevers. From what I could tell by watching the video on your website, it looks like you're blowing up the religious bubble you were talking about earlier.
Sandoval: Oh man. It needs it bro (laughs). It's religion that killed our King, you know what I'm saying—that religious idea that has distorted the love of God and now the world doesn't want it. They don't want religion. They want Jesus in their heart. They want Him. They just don't want the religion. So we've just got to smash all that so the world knows that here we are living in the end times and we need to hold on to God. We need to hold on to His promises and His truths. Those are the only things that last in our lives. We've got to get through those religious lines or these people are going to die in their sins and that kills me inside because I believe the truth. If we can just get these people to the heart of God, it will all make sense.
Bonham: How did The Whosoevers come together and what has been the impact so far?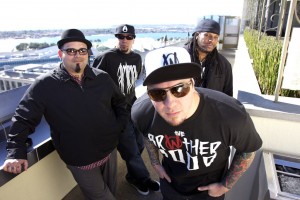 Sandoval: When I took that time away from P.O.D., I put down music and everything and I just said, "I need to know you Jesus. I need to know who You are." I'd been walking in a routine in my Christianity for so long and it wasn't how I felt when I gave my life to Him. It was a routine. I started to see things falling apart around me. So I went home and just started diving into my Bible because I wanted to, not because I had to. I really got lost in it and it took me back to that word "whosoever." It's one of the most famous scriptures in the world. Everybody knows John 3:16, "For God so loved the world, He gave His only begotten Son that whosoever believeth in Him shall not perish but have everlasting life." As I looked at that word, it was striking to me. That's like a people. That's like a nation. That's us. And God has called us "whosoevers" and He's saying, "I just want you to believe in my Son." That's where it starts. We don't need a resume to come to God. It's not our good deeds. We come broken and we need a savior.
I just said, "You know what? That's what I want to do." I started getting involved in some real accountability and some real discipleship. I hooked up with the right guys and I lined up with (former Korn guitarist Brian) Head (Welch) and Ryan Ries and (Flyleaf lead singer) Lacey (Sturm) and I just started getting in contact with people who had a relationship with God but they work and live in the real world and they want accountability. They don't want to mess up. They don't want to backslide. But at the same time, they can't live up to the phoniness of religion. It's eating them alive because they see it. That's not real man. That's not real. It became more of a brotherhood. I call guys up all the time from bands and from the extreme sports world. I just check on them. "How you doing man? How's your walk with our King?" We need that and we can be honest too. One of these guys will call me and say, "Pray for me man. Today sucks." And I will. "Let's pray right now!" We can be honest and open. "I'm struggling with this," or "I wanna get high" or "I don't know if I'm going to be able last at this next event." It's just honesty.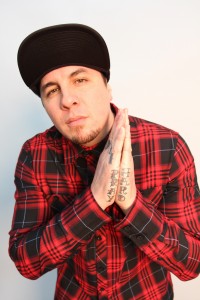 Once we're able to share that, the response is just amazing. These kids, they want to hear the truth. They want the truth and they can sense when it's genuine. I think for us, once we started to get out in front of kids that were coming and giving us a few minutes of their time because of who they think we are, we got to share our hearts. I'm the dirtiest of the dirty. I mess up all the time. I suck as a Christian. I can't stand religion. But I love Jesus and I'm trying. These kids are like, "If these guys can do it, I can do it." It just gives them a sense of hope and it's taken off on its own. Whenever we get the chance to team up together, we do concerts for free and events and we get the community together. Once we get them there, we just want to give them the truth. I don't make a dime off it. I'm not selling anything. I've got nothing to gain except that I believe this, but I also believe the repercussions if we don't believe it and I can't let that happen on my watch. Let's just go for it. And God is opening up cool doors, not only in the secular world but He's shaking up the church as well.
Bonham: Having toured with Korn before Brian Welch's conversion, you've got to be blown away seeing the radical change in his life.
Sandoval: Oh yeah. You know what? I don't know why I'm blown away all the time because God is just cool like that and He's faithful and He does stuff like that all the time. But just to see it and to walk with these guys footstep by footstep is just an honor. It's amazing. When I read Head's book, I was reminded of how much grace God has for him. I stayed at his house and I'd just finished reading his book and I told him how much I loved him and said, "Man, you're going through it. You've got victory right now from all those times you tried to quit meth and you were tweaking out." It's not by his strength and he'll tell you that. It's just because of his love for God and he's moving forward. It doesn't mean there's magic in it and all of the sudden you have power to overcome the world and nothing phases you. That's what inspires us. It is the power of God that keeps us rolling on. It's real good. When you know it to be real and true, that's when you have to share it with whoever will listen.
Bonham: So what's next for P.O.D.?
Sandoval: Yeah man. We're writing on the road as we speak. As soon as we get done with this tour, we're going to go into the studio with Howard Benson. We're shooting for a March 2012 release. We're going for it again. We're sort of like the underdogs. We sort of left the scene for a while so now here we are paying our dues, back in the mix, just playing shows and getting back out there. We're excited dude.
Check out part one of this interview with Sandoval by clicking HERE.
You can keep up with the latest P.O.D., news and download a free copy of the new single "On Fire" by visiting the band's official website HERE.
And to learn more about The Whosoevers, visit the official website HERE. You can also check out a fantastic video that explains what the movement is all about below:
http://www.youtube.com/watch?v=bDEWykmmCpk