Click "Like" to share with your friends!
While the Christian music industry has become all about worship bands and singer-songwriters, the four-piece vocal band Anthem Lights is forging a very different path towards fulfilling its goals on both the ministry and musical fronts.
In this Whole Notes interview, the band that formed out of Liberty University talks about their unique beginning, why they chose pop music over other current genres and how they hope to impact both the church and the general market with a message of hope and purpose:
Chad Bonham: What is it about Liberty University and its knack for producing national recording artists (i.e. dcTalk, Meredith Andrews, Phil Stacey, etc.)?
Alan Powell: If you're a sold out believer for Christ and you want to find a solid launching pad for going out into the world and making an impact for the Kingdom, when you go to Liberty with that in mind and you visit, I just don't know how you don't end up going there. I went to a public school all my life. I think all of us did. I loved that experience and it strengthened my faith, but for college I just wanted to surround myself with people who had a passion for Christ and I wanted to solidify my faith so I could go out into the world and make a difference. That's why Liberty was an easy choice. There's also an unbelievable amount of talent at that school. It's a really cool place where you can see God sending people out into the world.
Bonham: You guys came together in a unique way having met at school and through mutual friends. From there, things seem to have moved very quickly. Is your story nothing more than a reflection of God's hand working in your lives?
Chad Graham: I had countless doors opened and then shut on me. I felt like I was where God wanted me and that things were happening and then all of the sudden those doors would shut. I dealt with a lot of ups and downs, personally. I think everything that's happened with this band up to this point has been completely God's hand in the situation. Looking back on it, all the doors that opened and shut happened for a reason. We can see how God has led us all to this point.
Bonham: Has it been a calculated risk for you guys to create a vocal band in a time when there aren't as many out there or is this just what you feel like God has called you to do regardless of the current musical landscape?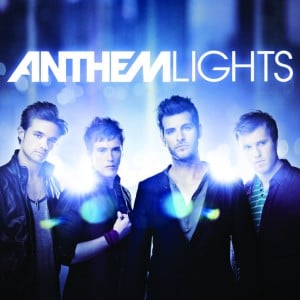 Powell: It's a little bit of both. It's definitely been organic how it came together but it wasn't like we were saying, "Hey, nobody's doing this. Let's do that." We just followed the inspiration for the project that led us to a band that looked like this. But it's definitely a calculated risk for everyone who partners with us, from the label to management to booking and all of that stuff. We all understand that Christian music has taken a turn towards worship music, which has turned into a lot of bands and those types of sounds. That's great. God is using that stuff and it's great. But we just followed our passion for pop music and it led us to this. We're excited to see what, if anything, God is going to do with it and use it to reach people.
Bonham: When you sent out demos, did you have any preconceived ideas about how the labels were going to respond and then did it surprise you how quickly things ended up moving forward?
Powell: We were so excited about the potential of it. We knew that this was different so we hoped that labels and management would see the potential that we saw. Obviously couple of years into it, that's been the case. We've been blown away and blessed to have them on board and partner with us to reach new people. I wouldn't say that we were concerned but we were anxious to see what the response would be from business-minded people. We were pleasantly surprised at the positive reaction we got.
Bonham: How important was it for you guys to employ a more aggressive pop/rock sound instead of what might be normally expected from a pop vocal band?
Graham: We definitely wanted to have the programmed beats and the synths but also pair that with the live instrumentation and the live feel so that when you see the concert you feel like hearing the album live.
Bonham: How challenging was it to take a big-sounding record into the live performances?
Powell: That's one of our biggest challenges is finding out how to do that. There are times when you have to scale back. You might be performing on a five-by-five stage in front of 12 people. That's an exaggeration but there are times when you have to turn the corner and do an acoustic set. We've done that a number of times and we've enjoyed that just as much. But we're always looking for creative ways to bring something new to the performance. One of the things we definitely don't want to do is show up and have the audience feel like they could have just stayed at home and listened to the CD at home and heard the same thing. We want to bring something to the live show that makes it unique. We really enjoy that creative portion of making the show entertaining.
Bonham: What is the feedback you're getting from the audiences?
Kyle Kupecky: It's amazing how passionate the fans have become. We're very interactive with the fans through things like Twitter after the shows and after we've hung out with them. We like to keep those relationships going. Seeing how important God is in their lives and helping them keep that going has been amazing.
Bonham: What is the purpose behind this band and who is the primary audience you feel called to reach?
Powell: We've kind of settled in to two missions, if you will. The whole thing in general started by us wanting to impact the Kingdom and bringing as much glory to God as possible. That's still our overall purpose, but God's given us to passions. That's to impact the non-believer and let them know through our actions and through our music and through our shows that there is hope, there is meaning, there is purpose in this life. We've really been struck, as of late, how people can wake up in the morning and chase a career or money or a relationship or coolness or whatever—fill in the blank. They can go to sleep at night and wake up the next morning and continue to do that day after day. Days turn into weeks, weeks to months, months to years. Before you know it, you've literally wasted your life when there was so much waiting for you in Christ. We have a passion to share that with the non-believer.
Secondly, we all grew up in the church. We were all saved at a young age. We all knew all the answers in Sunday School. But it wasn't until later on when I was 17 when it all clicked and I understood that Christ was supposed to be everything to me. So our passion for the believers is that they understand that this relationship with have in Christ is supposed to impact every aspect of our lives and it's supposed to affect every decision we make. Those are the kinds of passions that God has placed in our hearts right now. We love having the opportunity to spread that message through the songs and through the relationships and through meeting people.
Bonham: It's interesting to see artists like yourself and Leeland and Royal Tailor using pop culture devices to preach a message that is very counter culture.
Powell: Scripture is so counter culture. Christ was counter culture. It's not like we're supposed to be weird or anything, but as we grow closer to Christ, we won't care about the things of the world as much. As a believer, you're just going to be countercultural. That's the way its always been and it will always continue to be that way. That's why it's important for us as believers to encourage other believers that it's okay to be that way. That's the way it's supposed to be. Anybody who has a platform like Royal Tailor and Leeland and ourselves, it's awesome and necessary that we're spreading that message.
To keep up with the latest from Anthem Lights, check out the band's official website by clicking HERE.