Click "Like" to share with your friends!
It's been nearly 13 years since a fiery New York-based band burst onto the scene with its high-energy, Mediterranean-styled folk music. Burlap To Cashmere captured the hearts of Christian and general market fans with radio hits such as "Basic Instructions" and "Treasures In Heaven" before the band eventually faded away and lead singer Steven Delopoulos forged a solo career of his own.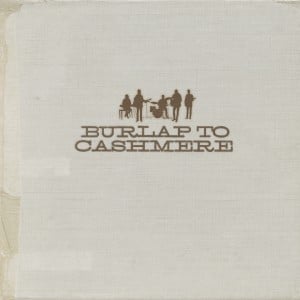 But in 2004, Delopoulos and cousin John Philippidis decided to work on some new songs and considered putting the band back together. Their plans were seriously put into question when Philippidis was brutally attacked in a road rage related incident. After a long recovery and radical facial reconstruction, Philippidis strapped the acoustic guitar back on, original drummer Theodore Pagano returned and the recording process began once again.
With its brand new self-titled album now available, Burlap To Cashmere is finally ready to reclaim its place as one of the music scene's most dynamic and creative forces. In part one of this Whole Notes interview, Delopoulos talks about the band's signature sound, the long process the band has endured and what brought the band back together:
Chad Bonham: Would you say your sound is more conducive to live performance?
Steven Delopoulos: When we arrange the music, we do it in a studio and we do it for our live shows, so yeah, you're right. Normally, we rehearse for a live show because that's what we do. We book a show and get the band in a studio and say, "Let's work on this song I just wrote and let's make it sound good." Then we take that song, press record and hopefully it comes out okay. So yeah, you're right. We absolutely focus on the live performance, yeah.
Bonham: There's been a lot of bands that have emerged and gained popularity who somewhat resemble what you were doing a decade ago—bands like Mumford & Sons. Was it odd to see those kinds of bands do so well while you guys were on the sidelines?
Delopoulos: It's really refreshing, to be honest. I mean, I've always been an advocate of seeing other bands do it and wishing that they would. I grew up listening to all of those acoustic-based guys—from Richie Havens just on the guitar singing "Freedom" at Woodstock to all those guys, you know, (Bob) Dylan and Woody Guthrie and Tom Paxton and then guys that were more a part of the pop scene like Cat Stevens and Harry Chapin and all those guys. To say that we were an influence, that would be a really nice thing to say. I don't know how true that is. We were doing it before (Mumford & Sons) was doing it, but I think we might be older than them (laughs).
Bonham: Of course, you guys were pretty young when you started out.
Delopoulos: We were young. We were hungry. We were playing like it was last day we were going to live. It was exciting. It was an exciting time. There was a lot of fire in us as kids and it really was a passion that we shared and it's a passion that's driving us to do it again. We just love what we do. We really do. We're lucky.
Bonham: Why did the band cease to exist for a while?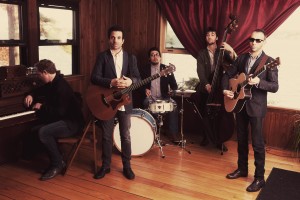 Delopoulos: We had a long run. We released the studio record and the live record in '97. We toured before that and we toured after that. We were on the road for about four and a half years. We weren't home. We were just out. We weren't getting much help from the label at the time and we were doing a lot of the road stuff on our own. It was tough. I think the first band member to leave was the keyboard player and then the bass player and then the percussion player. The bass player wanted to get married and have kids and have a normal life and who could blame him. So Robbie left and then Scott left to pursue other things and then we were a four-piece and it just wasn't the same. The sound was different. And my writing had changed. I'd become way more folk-oriented and I wasn't writing for the band. I was writing more for just me and a guitar. So a lot of things had changed creatively. I just think it was sort of like, "This was fun." We never had an agenda to have this career. As artists, you're like, "Okay, this painting is done. I want to check out another canvas. I want to find some new paint." So you don't think, "Well we have a career here. Let's continue this." You don't think logically when you're painting. Logic goes out the window. So, looking back, breaking up was good and bad. We needed to grow as people because we couldn't grow in the road. You have to be ready for that. But now it's a whole different ball game. We have a plan. We are older. We are interested in this being a possible career. And it's something that we love to do. When you're older, you're a bit slower, but you're a bit more balanced about it and you understand how the road works. You can't just be out there for a year straight. You need to be out and home, out and home—you know, that kind of thing.
Bonham: How did John's accident impact the band members and how did it serve as a catalyst to bring the band back together?
Delopoulos: Well, it wasn't a catalyst for bringing us together. The catalyst for bringing us together was actually before that. Me and Johnny had been playing and trying to get this going. The accident was during the time that me and Johnny were recording. We had recorded three or four songs and then we had a small demo development deal with Warner Brothers. Johnny's accident happened a couple weeks after that. In a way, we backtracked on moving forward. It had to be about Johnny's healing. That's what happened. So as Johnny was healing, we kept the music in the picture and we would keep playing together and that was part of his healing process.
When Teddy, our drummer came back from London, he said, "Let's get this going." Our old drummer coming back really put us in a state of having a band. It was the glue between me and Johnny taking it seriously. You've got to understand. Me and Johnny are family. We can get together and play music in a room for our family and friends and we're good. That's enough. But if you talk about building some sort of tower and making a business out of it and getting management and getting a booking agent and getting signed to a label and getting into a bus with a band, all that stuff for me and Johnny is like, "Okay, that sounds like fun, but let's play for our cousins right now and have some food." To be honest with you, we had great management this time around. We had Tom Lewis. He was an old friend and he had called me out of the blue and wanted me to work with an artist that he really liked out in Nashville. I said, "You know Tom, we got the band back together." So Tom just really was the guy who got us to make a demo with a friend of mine out in California and those demos got into the hands of Jive Records and from there it's sort of been the domino effect of turning this back into a business. It's been a fun ride.
Click HERE to read Part 2 of the Whole Notes interview with Steven Delopoulos.
To stay up on the latest Burlap To Cashmere news, visit the band's official website HERE.