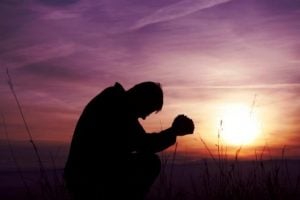 Have you ever had to wait for things to come to pass in your life? Have you ever waited expectantly only to have your hopes dashed or even snatched right out from under you? When that happens, it feels as though nothing will ever possibly go correctly. You want things to happen for you, and you want the good things to outweigh the bad. Sometimes it seems as though the bad far outweighs the good.
Your season of waiting may last days, weeks, or even months or years. Whatever season of waiting you're in, whether it's waiting for a job, a new promotion, or for you and your loved ones to be delivered from an illness that might be plaguing your family, God is still present. He is still with you, even in your season of waiting. He knows exactly what you're going through, even before you're going through it.
He knows what will happen before it even happens. That thought can scare you a bit though too, can't it? You might be thinking "if God knows everything about my life, then why can't he stop bad things from happening to my family or me?" The answer is that even though God knows everything that will happen in your life, is that He helps you choose between right and wrong. He also lets things happen to strengthen your faith.
When you're in the middle of your season of waiting, it doesn't mean God has abandoned you, either. He is still very present in your life, even when you don't feel, or don't see Him. He has never abandoned you. He never will. Think about it for a moment, are you in a season of waiting? Ask God to reveal His plans for your life during that time.
Some verses that remind you about waiting on God include 1 Corinthians 13:4 "Love is patient, love is kind. It does not envy. It does not boast; it is not proud."
Jeremiah 29:11 "For I know the plans I have for you," declares the LORD, "plans to prosper you and not to harm you, plans to give you hope and a future."
Romans 12:20 "Be joyful in hope, patient in affliction, faithful in prayer."
Psalm 37:7-9″Be still before the LORD and wait patiently for him; do not fret when people succeed in their ways when they carry out their wicked schemes. 
Refrain from anger and turn from wrath; do not fret—it leads only to evil. 
For those who are evil will be destroyed, but those who hope in the LORD will inherit the land."
Romans 8:24-30 "For in this hope we were saved. But hope that is seen is no hope at all. Who hopes for what they already have? 
But if we hope for what we do not yet have, we wait for it patiently. 
In the same way, the Spirit helps us in our weakness. We do not know what we ought to pray for, but the Spirit himself intercedes for us through wordless groans. 
And he who searches our hearts knows the mind of the Spirit because the Spirit intercedes for God's people in accordance with the will of God. 
And we know that in all things God works for the good of those who love him, who have been called according to his purpose. 
For those God foreknew he also predestined to be conformed to the image of his Son, that he might be the firstborn among many brothers and sisters. 
And those he predestined, he also called; those he called, he also justified; those he justified, he also glorified."
He also gives you free will to make your own choices. He also knows the consequences that some of your choices can bring in your life. He loves you enough to give you free will and to help you choose the right way to go in life. He can help you endure the waiting, and you will then reap the rewards of waiting in your life too. Granted sometimes waiting can be the hardest part of the journey, but once God grants you the things you've been waiting for, it makes life all that much sweeter.
God allows you to have seasons of waiting to strengthen your faith. He wants to see whether or not you turn towards Him or away from Him. Ask Him to help you to be grateful even in the midst of your season of waiting. Once everything comes to pass, and even during your season of waiting, you will learn to see God's glory in ways you never thought possible. Trust God in your season of waiting and see how He touches your life and your heart. When you least expect it, that is when His full glory is shown in life.