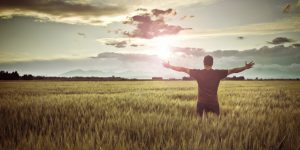 Like all of us, we sometimes struggle to pray for peace and understanding in our lives. Especially when things get really tough. We aren't just in a battle of wanting peace and prosperity and happiness for ourselves. We are literally fighting a spiritual battle against the Devil. He doesn't want us to have happiness that can only be found in God. But if we can learn to imitate Jesus's attitude about everything in our lives and praise His name, then the Devil will flee from us. If we can learn to talk to God through prayer and through praise, Satan will learn pretty quickly that he doesn't have the power over us. We can speak out against him in our minds or out loud, declaring that we are all god's children and that we are not about to let him steal our peace.
The Devil isn't afraid of us or what we've done. He is afraid of God Himself. So, when we start praising Him and come to Him in prayer, the Devil will flee. That realization has hit me hard in a good way. How often does it happen for you that it feels better to complain and let off steam about any situation instead of coming to God in prayer and asking Him to take the burdens that we are feeling away from us? You're not the only one who has felt like complaining is a better way to let off anger than by praying. We've all gone through that.
The Devil wants us to be miserable in our lives and to walk further and further away from God. He wants us to be so miserable in our lives that we completely forget about following God. He doesn't want us to have the happiness that comes with knowing Jesus and God on a deep personal level. The Devil wants us to be so deep in misery the way he is, so that we don't even think of looking toward Heaven for help. The good news is that God is only seconds away from hearing our hearts crying out in pain. All we have to do is cry out to Him and He hears us. God may not say something in the same spoken way that many people such as Moses and Elijah and even David and Joseph have been spoken to, but He does hear us when we cry to Him. As said before if we call on Him, the Devil has no choice but to flee from our lives.
You might ask how is the Devil afraid of God Himself? Well, he is afraid of the happiness e can give to each of us. He is afraid of us receiving forgiveness for our sins because God hadn't forgiven him for betraying Him by trying to be like God Himself. Jesus defeated the Devil just as he thought he had victory over Jesus in death. He couldn't have been more wrong. The same thing goes for us. The Devil only has control of us and victory over us if we let Him. It can be very easy to give him that foothold that he uses to make us feel all the emotions that are normal for our everyday life. The emotions include: loneliness, sadness, anger, fear, desperation, depression, and many others. Once we let him have control over our emotions he gets us so stressed out for a time that we don't even think about praying or turning things that are stressing us out, over to God. The Devil is also afraid of us receiving the peace that only God can provide. He wants our lives and our hearts to be in complete chaos. The Devil is also afraid of the love of God that we can spread to others through God's word and sacraments.
The Devil is the one making chaos happen in our lives. If we let him, he will turn anything and everything upside down. He could easily have control over our thoughts, finances, emotions and our actions and just about everything in our lives. But luckily and fortunately for us, it doesn't have to be that way. We don't have to let him have that hold on us. We have the power of God within our hearts and within our lives. But we fortunately have the power of our Savior on our side. If God is for us, then no one can ever stand against us. He already has won the victory for us by dying on the cross. When we speak the name of Jesus, the Devil will flee. Speak your Savior's name out loud and proudly declare that He is giving you the life you want, and through much prayer and belief, you will receive it. God is always with you.