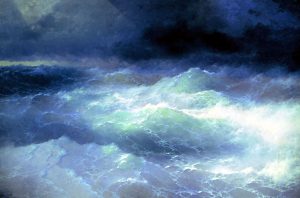 In this life, you will have troubles. It's unavoidable, unfortunately.  Jesus told us that. He says in John 16:33 that, "I have told you these things, so that in me you may have peace. In this world, you will have trouble. But take heart! I have overcome the world." This verse can bring us so much comfort. Jesus wouldn't have saved us from death, the cross and our own sin, if His gracious promises weren't true. He wouldn't tell us things in the Bible that aren't true.
Think about the last time you experienced a heartbreak or any trials. It probably brings back unpleasant memories. But the good news is that you learned from all of the heartbreaks and trials that He has gotten you through. We will face many problems in our lives, but the great news is that we have so much more to look forward to in this life. You have so much more to look forward to once you are in Heaven. Remember, that nothing you are going through now, or in the future of the life here on Earth, can ever compare to the joy that is coming. What a wonderful thought it is, that nothing compares to the promise you have in the Lord. You will see your family members and friends that you lost, once you get there. You will have no more pain, no more sorrow and no more trials. There will be singing of angels to the Lord. Jesus knows you by name already. Can you imagine your reaction when you get to Heaven and see Him for the first-time face to face?

Look at all the things you didn't think you would be able to get through. You made it through them and came out stronger than you had at the beginning of the trials, didn't you? For example, through my time in college, there were many times that I thought that I wouldn't be able to pass a certain class, because of how much I struggled in it. There were many times I cried myself to sleep and wanted to give up. I wanted to quit. But in the back of my mind, I knew God wasn't done with me in that particular class. He didn't give me the trials in the class to just up and quit. I knew deep down that He had a reason for giving me each and every trial that I faced. I knew He was going to help me through it, even when I didn't see how He was going to get me through it. It wasn't and isn't always easy to remember that God has a better plan for me than I have for myself. It isn't always easy to remember to relinquish my control of my life, over to Him either. It isn't easy to trust Him day in and day out either.
Some Bible verses that tell us to trust in Him are as follows:
Joshua 1:9 says : Have I not commanded you, be strong and courageous. Do not be afraid do not be discouraged for the Lord your God will be with you wherever you go.
2 Samuel 7:28 says: Sovereign Lord, you are God.  Your covenant is trustworthy. You have promised these good things to your servant.
Psalm 9: 10 says: Those who know your name, trust in you, for you Lord have never forsaken those who seek you.
Psalm 13:5 says: but I trust in your unfailing love. My heart rejoices in your salvation.
Psalm 20: 7 says, Some trust in chariots, some trust in horses but, we trust in the Lord our God.
Even through the many trials of this life, God is at work through them. He will never leave you nor will he ever forsake you. He loves you as His children so much that he sent His son Jesus to die on the cross for you. If He didn't care about you, He wouldn't be walking through the trials that you face ever single day, with you. He wouldn't be waiting for you to come to him in prayer and to ask him or His help. He would be telling you that you are on your own. The good news is that you're never on your own. God can be using the trials you face in order to strengthen your faith and to strengthen your relationship with Him. Remember, even when it feels as though He has abandoned you and that He isn't there, don't listen to that lie that Satan puts in your head. Remember that God is always with you. Use the trials in your life to grow closer to Him and to be a witness to point others towards Him. Even when you don't see a way through them, God has already lined up ways to get through them. He has also set up amazing things on the other side of your storms to remind you of His never ending grace and mercy.