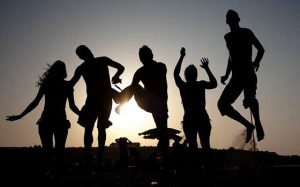 Celebrate your life and the time you have on this earth. Celebrate when something great happens in your life. Celebrate with others when they have a new birth in their families. Celebrate with your friends and family members when they get a new promotion or a new job. Celebrate the time you have with friends and family. Cherish them. Tell them you love them, no matter what. You never know when God will call you or any one in your family or friend circle, home. Celebrate that you have a job, even if it is not your ideal one or a job in your field right away. Celebrate and be happy that you have the friends and the family that you have. Be thankful that God put people in your life for a reason- either as a blessing or a lesson.
Rejoice in the fact that you get to go on a vacation, no matter where it may be. Rejoice in the fact that you have time to recuperate and to just enjoy life. Enjoy the fact that you get the opportunity to slow down and "smell the roses" as they say. Whatever you want to do with your down time, do something that makes you happy. Whether it is relaxing on the beach or just sitting at home reading a good book.  Everyone deserves down time or vacation. Everyone deserves time away from their job and the normal stressful times of everyday life. That's why God allows us to rest every day. After a long day at work I know many of us look forward to coming home and putting our feet up on the couch in front of the TV.
How many of us remember to thank God for giving us life every day? Most of us often forget how precious our lives actually are. Take the time to thank God and reminisce on the great times He has allowed you to have. Thank Him for allowing you to experience all of the things He has allowed you to experience, both good and bad. The good memories we have are the ones that we cherish for the rest of our lives. While the hard memories teach us how to become better people, they also teach us not to take anything for granted in our lives. Take the time every day to celebrate all that God has given you in your life, whether it is the people in it, or the circumstances that He has helped you through. He deserves all our thanks and praise.
We can celebrate that Jesus willingly gave up His life for us on the cross. He didn't have to love that much, but He did. He loved us all enough to willingly die for us in our place when we were the ones we deserved the punishment of death and eternity in Hell. He took that severe punishment upon Himself and He put Himself in our place so that we can have eternal life with Him in Heaven. No one else has ever done anything like that for us before. Rejoice knowing that our debt of sin is paid in full and that we have eternal life with the triune God waiting for us. We are saved from our sins, from death and from the power of the Devil, because of Jesus' selfless act of true love. When was the last time we remembered to thank Him for that, nonetheless, took the time to really celebrate that gift?
Psalm 100: 1-5 says, " 1 Shout for joy to the Lord, all the earth . 2 Worship the Lord with gladness; come before him with joyful songs.3 Know that the Lord is God. It is he who made us, and we are his. We are his people, the sheep of his pasture. 4 Enter his gates with thanksgiving and his courts with praise; give thanks to him and praise his name. 5 For the Lord is good and his love endures forever; his faithfulness continues through all generations."
Psalm 16:11  says, "You make known to me the path of life; in your presence there is fullness of joy; at your right hand are pleasures forevermore."
Find joy in everything you do in life, no matter how big or how small. Find the time to be thankful and to treasure all you have experienced in life. Find the time to go out and experience things that you have never got to experience before. Make memories with people that you will cherish for a lifetime.  Appreciate the little things in life, because down the road, the trivial things will be looked at as the important things. The most important thing to do is take the time to celebrate the relationship that you have with God.