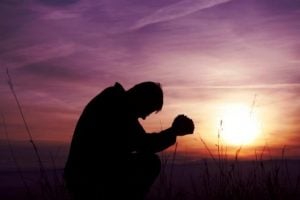 Praying today can have many different meanings. Some people may say that they pray every day while others may not seem the meaning of prayer. Unfortunately, though, in our own minds and in our homes and even in our churches it appears our prayers have become too memorized and mundane. How often do we really stop and listen to the words of the "our Father" prayer also known more formally known as The Lord's Prayer? We tend to just recite it with others in our congregation. Why is that, you may ask. There is so many different answers to that.
We may often find it easier to recite prayers or say prayers in a group, so it doesn't feel weird like we're talking to God alone. Praying alone and making alone time to be with God is such a privilege and an honor.  Praying is such a wonderful thing and it's a shame that people don't always see it as such. Prayer can help heal your mind, spirit body and soul. Prayer can help you through anything and everything in your life.  If we all knew the many benefits of prayer, wouldn't we do it more often, both alone and in groups and in our congregations and within our own families? God wants us to have a relationship with Him and one of the best ways to do that is through prayer. Prayer can work miracles in your life and in the lives of others.
There are many Bible verses about prayer that we can familiarize ourselves with and turn to at any time in our lives. One of them is 1 John 5:14-16 which says "this is the confidence that we have when approaching God- that if we ask anything according to His will, He hears us."
2 chronicles 6:21: 21 "Hear the supplications of your servant and of your people Israel when they pray toward this place. Hear from heaven, your dwelling place; and when you hear, forgive."
2 chronicles 7:14: 14 "if my people, who are called by my name, will humble themselves and pray and seek my face and turn from their wicked ways, then I will hear from heaven, and I will forgive their sin and will heal their land."
Ephesians 1:18 : 18 "I pray that the eyes of your heart may be enlightened in order that you may know the hope to which he has called you, the riches of his glorious inheritance in his holy people."
Ephesians 6:18: " And pray in the Spirit on all occasions with all kinds of prayers and requests. With this in mind, be alert and always keep on praying for all the Lord's people."
Jeremiah 29:11-12 is one of my all-time favorite verses. It says, "For I know the plans I have for you," declares the Lord, "plans to prosper you and not to harm you, plans to give you hope and a future. 12 Then you will call on me and come and pray to me, and I will listen to you."
Job 22:27: " You will pray to him, and he will hear you, and you will fulfill your vows."
Mark 11:24 is another one of my favorite verses. It says, "therefore I tell you whatever you ask for in prayer, believe that you have received it and it will be yours." But this verse can be misunderstood too. It doesn't mean that as soon as you pray for something to automatically say I believe that I receive it and it'll be mine and then go around telling people about the bragging rights you get through that verse and through prayer.
Praying is something that is supposed to be done in secret and done just between you and the Lord. You don't have to tell people anything you pray for unless the Holy Spirit leads you to do so. There is nothing wrong with having a prayer group that you go to regularly to pray for things that are going on in your life and in other's lives. But take the time to pray every day and to learn more about our Lord and Savior, because He wants you to have a personal relationship with Him through prayer. He wants you to come to Him in calmness, or in the midst of strife and grief and pour out your heart to Him. He wants you to ask Him why bad things happen in your life. Even though He may not give you the answer you long for, God will give you the peace you need in your heart, body, mind and soul in order to keep living your life through Him. Prayer is an open invitation and an open time to talk with God. The good news is, you can make an appointment to talk to Him any time any day of the week.