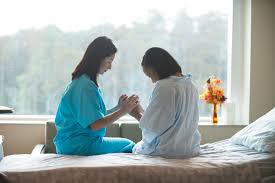 When in doubt pray it out. Doubt often creeps into our lives and in our minds at any given time. We start to doubt ourselves, our worth, our abilities, the way we look and feel. We start to doubt people and the truth they may or may not be telling us. We doubt whether anything may be true in our lives. But the good news is that God and His gift of salvation is true. There is no lie in God's word or in the way He views us as His precious children. We think that we can get everything figured out on our own. Reality check people, we can't do anything without God in our lives. A rule that has stuck with me since I was little has always been when in doubt-pray it out. This means to turn your doubt around into prayer that can be used for your good in your life and it can even help other people as well. Instead of doubting what can be done by you as an individual, remember and realize that God can and will do everything in His almighty power to help direct your life. Instead of doubting Him, trust Him. Instead of thinking negative-turn your anxious thoughts into positive prayer. It will bring you much peace in the long run. Recently I found myself thinking and venting about a situation for far too long in a day, and only when I finally prayed about if full heartedly did I find the peace my heart needed. Prayer restores the peace in our hearts that Satan so desperately wants to take from us so we can be miserable. It is up to us whether we allow him to do that or not daily. We can be miserable every day in our doubt and let Satan have power over us or we can pray away the doubt that plagues our minds day in and day out. Praying over the things you doubt and the things that you are worried about, allows you to rationally think about everything in your life instead of dreading it. It allows you to think clearer and to plan for what lies ahead instead of dreading it and fearing it. God doesn't want is to fear our lives. He is there with us through the fears and despite the fears.
Some Bible verses about praying through doubt and trusting God are as follows:
Proverbs 3:5-8 says, "Trust in the Lord with all your heart, and do not lean on your own understanding. In all your ways acknowledge him, and he will make straight your paths. Be not wise in your own eyes; fear the Lord, and turn away from evil. It will be healing to your flesh and refreshment to your bones."
Mathew 21:21 says, "And Jesus answered them, "Truly, I say to you, if you have faith and do not doubt, you will not only do what has been done to the fig tree, but even if you say to this mountain, 'Be taken up and thrown into the sea,' it will happen."
Isiah 41:10 says, "Fear not, for I am with you; be not dismayed, for I am your God; I will strengthen you, I will help you, I will uphold you with my righteous right hand."
Jeremiah 29:11-13 says, For I know the plans I have for you, declares the Lord, plans for welfare and not for evil, to give you a future and a hope. Then you will call upon me and come and pray to me, and I will hear you. You will seek me and find me, when you seek me with all your heart."
Praying gives you that peace that you need in your life. The peace through prayer is awesome to experience. Often the peace I feel through praying over situations that are beyond my control, the feeling is out worldly. It is something I can barely explain. It's almost unexplainable peace that instantly envelops me by the grace of the Father. When I turn the anxious thoughts I have into prayer, it rewires my thinking and turns it around to the One who can, will and the One who always has made a difference. He has my back and yours as well. Rest assured that He has your best interest at heart and only wants what is best for you. Practice this mantra every time you feel yourself getting stressed about anything- when in doubt, pray it out. When we focus on the one who can and will fix our problems, we release a lot of stress. When His peace fills our lives, we can do more of the things He's called us to do. When we focus on Him, our problems don't seem as monumental.