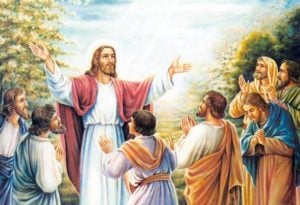 What is God's will for my life? When you think about the things that you want to happen in your life, how often do you find yourself thinking or asking, do the plans I have for myself really line up with what God is saying? Do my plans line up with what God is planning and what He can do in my life? Often the answer is no, our plans do not line up with what He has planned for our lives. But, instead of worrying about it, instead, pray about it. You can rest assured in His will that the things that God wills, will be brought to completion. If it is God's will He won't have and doesn't have any trouble getting things in our lives to line up in the right order and at the exact correct time, to get us exactly where we need to be. As Steven Curtis Chapman says and sings, "God is God and I am man. I can only see a part of the picture He's painting. God is God, and I am man. So, I'll never understand it all, for only God is God." If somebody in your family is sick, if you pray and have faith and give it up to God and let Him take control over the situation. If it is God's will, your family member will certainly be healed. It can be very hard to figure out whether something is God's will or not. Some days we don't know if somethings are God ordained or not. Some days we don't and won't even feel like God is that close to us.
It can be very hard to figure out why God allows certain things to happen. But once you know that everything that happens is already God's will, you can slowly begin to accept it and have the peace you need in your heart. Once you know that everything that has happened and everything that will happen is God's will, you can begin to change your attitude about life.
For example, if it is God's will for someone to leave your life, no matter how hard you try, the person will continue to disappear from your life. You may think of it as a disaster and that it is your fault, at first, but in time you will become wiser and realize that God was and is protecting you from the poison of that person. Some people literally do bring poison to our lives. If you look at it rationally and realize that the person is doing you more harm than good, then you know it was God's will and He is protecting your and your heart from more damage by getting that person out of your life.
Some other ways you can ultimately tell whether something in your life is God's will or not, is if you find yourself having peace after a certain person goes out of your life, or when a situation finally comes to pass. Still other ways are through constant prayer and petition, as well as reading His word daily and studying what He has to say.
There are many Bible verses that talk about following God's will. Some of these include:
John 7:17: "If anyone's will is to do God's will, he will know whether the teaching is from God or whether I am speaking on my own authority." This verse means that we as believers can figure out whether someone's teaching is directly from God or from their own mouths. We can tell if it is teaching from God because the words and the messages will resonate in us and spark a flame in our hearts and in our minds.
Romans 8: 27 says, "And he who searches hearts knows what is the mind of the Spirit, because the Spirit intercedes for the saints according to the will of God." This verse means that when we search our hearts for God and the Holy Spirit, He will help us understand what the mind of the Holy Spirit is able to do in our hearts, souls, minds, body and in our lives.
1 Peter 3:17 says, "For it is better to suffer for doing good, if that should be God's will, than for doing evil." This verse speaks for itself saying, that is it always better to suffer while doing good for the Lord and for our fellow man, than for doing evil against the Lord or against our fellow man.
1 Peter 4:19 says, "Therefore let those who suffer according to God's will entrust their souls to a faithful Creator while doing good." This verse means that anyone who is suffering, even while obeying God's will, we can trust God's will and His good and gracious will and His plan for our lives.
Everything not only happens for a reason. Everything happens for His reason and for His reason alone. Everything happens in our lives according to God's good and gracious will. Pray about everything and keep the faith that God will see you through every situation in your life. He will give you the discernment to know what is His will and what is not.
Prayer: Lord please help me to know what things in my life are your will and ordained by you. Help me to gain the discernment and give me eyes to see and ears to hear your will. Help me to do things in my life according to your will.  Amen.