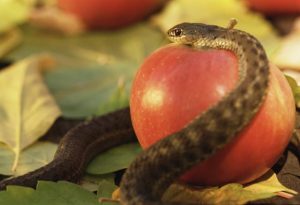 The world would be in perfect harmony with God and we would be in perfect harmony with God. We would have a perfect relationship with our Savior. There would be no pain, sorrow, death, financial problems, or family problems. There would be no killing, no more hurt feelings, and no more loss of life to senseless violence. There would be no accidents on the streets or highways, no fires, no racism no unrest in any parts of the world. There would be no more fighting wars. There would be no more old-fashioned fist fights. There would be no more lying, cheating, idolatry, or adultery. There would be no divorce either.
Unfortunately, the world is filled with all of those problems and the only thing we can do is, turn to God for the right answers as to how to deal with those, problems, this world brings. He may not give us the exact answers that we want or need right away, but He will give us the answers He knows we need. He can and will give us the guidance as to how to best approach any problem we may have in this life. If He can figure out where the land parts and the sea begins, when the sun rises and sets and where, how we will play out in our lives each day, He knows exactly how everything in this world plays out. He created man in His image, we must know we can turn to Him for how anything comes about in our lives.
The Bible gives us many instances of God's love as well as the first sin. Genesis 3 says, Now the serpent was more crafty than any of the wild animals the Lord God had made. He said to the woman, "Did God really say, 'You must not eat from any tree in the garden'?"2 The woman said to the serpent, "We may eat fruit from the trees in the garden, 3 but God did say, 'You must not eat fruit from the tree that is in the middle of the garden, and you must not touch it, or you will die.'"4 "You will not certainly die," the serpent said to the woman. 5 "For God knows that when you eat from it your eyes will be opened, and you will be like God, knowing good and evil."6 When the woman saw that the fruit of the tree was good for food and pleasing to the eye, and also desirable for gaining wisdom, she took some and ate it. She also gave some to her husband, who was with her, and he ate it. 7 Then the eyes of both of them were opened, and they realized they were naked; so they sewed fig leaves together and made coverings for themselves. 8 Then the man and his wife heard the sound of the Lord God as he was walking in the garden in the cool of the day, and they hid from the Lord God among the trees of the garden. 9 But the Lord God called to the man, "Where are you?"10 He answered, "I heard you in the garden, and I was afraid because I was naked; so I hid." 11 And he said, "Who told you that you were naked? Have you eaten from the tree that I commanded you not to eat from?"12 The man said, "The woman you put here with me—she gave me some fruit from the tree, and I ate it."13 Then the Lord God said to the woman, "What is this you have done?" The woman said, "The serpent deceived me, and I ate."14 So the Lord God said to the serpent, "Because you have done this," Cursed are you above all livestock and all wild animals! You will crawl on your belly and you will eat dust all the days of your life."
To think that if God and Satan wouldn't have had a falling out, then the world would be in perfect harmony. Satan wanted to be like God, and even worse, He wanted to take over and be God. What a scary thing to think of Satan ever ruling this world even more than what he does now. He uses all those instances of pain to turn us even farther away from God and to get us to turn on one another. The good news is, God saw right through him, knew exactly what he wanted and cast him out of Heaven, into Hell., before it was too late.  God showed his love for us because while we were all sinners and forever will be sinners, Christ died for us.
Romans 8:37-39 – "No, in all these things we are more than conquerors through him who loved us. For I am sure that neither death nor life, nor angels nor rulers, nor things present nor things to come, nor powers, nor height nor depth, nor anything else in all creation, will be able to separate us from the love of God in Christ Jesus our Lord."
Ephesians 2:4-5 – "But God, being rich in mercy, because of the great love with which he loved us, even when we were dead in our trespasses, made us alive together with Christ— by grace you have been saved …"
Even though we are all still sinners, God showed His never-ending love, grace and mercy by providing His one and only son as a ransom for us all. Even though God knew that the first sin was going to happen, He had a beautiful plan to save His people and all creation from eternal damnation.
God continues to work in our favor, for our good and according to His good and gracious will. The only way things will ever be perfect again is when we get to Heaven.