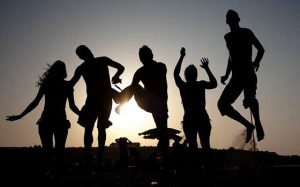 Friends are a gift from God. Not everyone is meant to be a best friend forever, though. God lets us become close with certain people for many years until we are old, while other people only stay in our lives until they find someone better. The sad fact is, that people do this all too often. The even sadder part is that the person, who is abandoned by their so-called 'friend', may think that it is their fault that the friendship ended.
I learned that it wasn't my fault that a friendship didn't last, years after someone walked out of my life. I'd blamed myself for many years before God and other people helped me gain the realization that the friendship ending had nothing to do with me and that it wasn't my fault. Satan had me wrecked with guilt for so long, I had literally given up on the possibility that the other person had been the one who'd walked away from me. I'd never walked out on them.
When you give your all in a friendship, it can be very hard to put the pieces of your heart back together after the friendship falls off the wayside. Especially if it was all you thought you ever wanted in life. That certainly was the case for me with one of my friendships. I worked as hard as I could to keep that person in my life only to have them walk out and leave me cut and dry. I couldn't figure out why God would allow pain like that to happen to me. But then one day, as clear as ever, He spoke to me saying, "I let that person walk out of your life because you wouldn't have been able to handle what they were doing and what they were going through." I'm grateful for God giving me that realization, but to this day I still deal with that pain of losing someone very dear to me, that I thought would be in my life forever.  But I accept it as God's will now, instead of fighting it.
 Another person who is very dear to me, helped me realize that loosing someone who doesn't appreciate the friendship, isn't really a loss, it is a gain. Every day is a new chance to continue working on yourself to gain the feeling of peace and happiness that you used to have. He can heal your heart from any wounds.
God has helped me feel better about the friendship ending, by putting new people in my life that are just as important as the friend I lost.  Even though the pain of losing the friendship is very raw, I know God is doing it to protect my heart from further damage in the future.
God knows who belongs in your life and who doesn't. Ask Him for the help in discerning whom you should and shouldn't associate with. If something in your heart is telling you to stay away from certain people, it could be God sending you a message to be careful around them. Take that voice in your head seriously.  I've met some great people in life, but I'm still trying to figure out if they really want to be friends with me. I also know that I've let some good potential friends fall off the wayside because of the fear that I had that the friendship wouldn't last. I try to always remember, God is in control of who is in my life and who isn't.
It's an ongoing search, trying to find friends that are true, and only God can help you overcome the obstacle. There may be times when you hold back on getting too close to people because of what you've been through. But God is at work and will put new people in your life that you will consider more than friends. You'll consider them family.
God can help you discern who belongs in your life and who doesn't as well. Ask Him for guidance as to whom you should put as a priority in your life. God can give you clear-cut signs as to who is a real friend and who isn't. God never said you couldn't be friends with people who are unbelievers either, but it is a good idea to figure out which of your friends are really seeking God in their lives and which aren't. You may even be placed in someone's life, to lead them to God.
For example, a real, true friend, is there for you no matter what, any time, day or night. A fake friend is someone who claims to be there for you, and then uses you for his or her own selfish desires or chooses to only be there for you when it is convenient for them. Ask God to help you look for those warning signs.  Though they may not be clear all the time, God will guide you to know who is real and who is fake. Remember, there is always one friend you can always count on, and that's Jesus.
Proverbs 17:17 says, "A friend loves at all times and a brother is born for adversity." God is there for us as our friend and especially during times of adversity in our lives. Proverbs 18:24 says, 24 "One who has unreliable friends soon comes to ruin, but there is a friend who sticks closer than a brother."
God is the only true reliable friend we have in this world. Even though He gives us true friends as blessings here on Earth, we can still find a lot of comfort knowing that He is the main one we should come to trust in and turn to. Revelation 3:20 says 20 "Here I am! I stand at the door and knock. If anyone hears my voice and opens the door, I will come in and eat with that person, and they with me."
God will provide exactly who you need in your life. Trust God's plan and let Him lead you to the right group of friends.