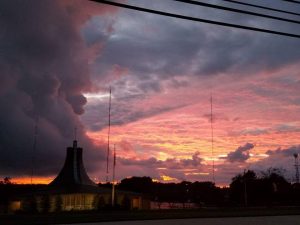 Fear can be an overwhelming aspect. We can have fear at anytime, anywhere in our lives. The good news is, we don't have to be afraid. We don't have to be slaves to fear. The Bible says do not fear 365 times. That's a verse about not fearing every single day. God doesn't want us to have a spirit of fear or feelings of fear in any scenario in our lives. He wants us to display His confidence that He places in us daily. We may not always feel His confidence over our fears, but He has very specific ways as to how He helps us overcome them in both scripture and through our relationship with Him personally. He gives us many ways to overcome our fears and strengthen our relationship with Him in the Bible.
2 Timothy 1:7 says, 7 "God didn't give us a spirit of fear but of power, love and self-discipline." If God gives us that spirit of power, and self-discipline we should use it for our own good and for the good of others. We can help others overcome their fears and teach ourselves a thing or two about why we don't need to fear as well.
John 14:27 says, 27 "Peace I leave with you; my peace I give you. I do not give to you as the world gives. Do not let your hearts be troubled and do not be afraid." God doesn't give us the fear that may be in our hearts. Satan does. We can reject his lies by trusting in God's unfailing love, power, peace and promises.
Joshua 1:9 says, 9 "Have I not commanded you? Be strong and courageous. Do not be afraid; do not be discouraged, for the Lord your God will be with you wherever you go." This verse tells us to remain courageous and remember that God is there for us no matter where we go.
Isaiah 43: 1-3 says, 3 "Do not fear, for I have redeemed you; I have summoned you by name; you are mine. 2 When you pass through the waters, I will be with you; and when you pass through the rivers, they will not sweep over you. When you walk through the fire, you will not be burned; the flames will not set you ablaze.3 For I am the Lord your God, the Holy One of Israel, your Savior."
God says He will be with us through everything. Whether we have a child like fear of turning off the lights or fear of not being accepted by someone's family, fear of not fitting in at work, fear of failure, God allows Himself to be made known through all our fears. He allows us to learn from them as well. When we were kids, we had to learn that nothing would grab us in the dark at night. We can use that same experience in our lives now, realizing that God is with us and protecting us.
He will help us overcome our fears if all we do is ask Him to help us overcome them. However, if we sit around thinking 'oh man how do I get through this situation,' we aren't listening to God's voice, we're giving in to Satan's lies that we won't be able to overcome whatever we're afraid of. We must be willing to make a change in our lives to not let fear hold us back from doing the things He wants us to do. We are the only ones holding ourselves back.
Look at Esther and what she went through. Don't you think she was afraid of being queen and then realizing that her cousin and her entire family were in danger of being exiled and probably killed? She knew it was her responsibility to go to the king and tell him the truth about what Haman did before it was too late for her and her family. She found the courage to face her fears and saved her family.
Another example of people facing their fears in the Bible is Jonah. Don't you think he was afraid to go to Nineveh to tell the people there to repent of their sinful ways, otherwise they'd be destroyed? You bet he was scared. But after much hardship God finally got him there and he helped turn the people back to Christ.
Moses is another example. He told God he was the wrong person to lead the Israelites, out of slavery. He had a lot of fear running through his mind to tell God that He chose the wrong person. Even though he was afraid, Moses knew he had to do what God had told him to do.  God showed His power to Moses by helping him turn the water to blood and by parting the seas as Pharaoh chased after them. Moses eventually did get them to the other side of the Red Sea, but he knew he couldn't do it alone. He had God on his side.
All those people, Moses, Esther and Jonah, all had to believe that God was on their side in order to overcome their fears. If God can help them through hard times and help them conquer any obstacles in their path, He can surely help you face your fears and conquer any obstacle.
God helps those who help themselves and believe in them with all their hearts. If we want something to stop causing us fear, we must pray about it and believe that God will help us overcome the fear. However, if we doubt Him, it will always be hard to overcome anything we fear. We can use our fears to better ourselves and knock the walls between us and our victories, down, or we can just stay in one place in timidity. Which do you want to be remembered as? A warrior for God's truth, love and justice, who is willing to face your fears, whatever they might be, head on, with God's help, or a person who lets fear cripple them in any way? Don't let fear stand in your way of what God has called you to do.