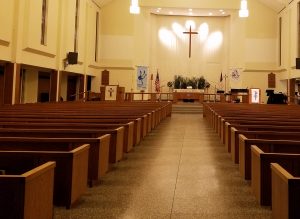 As 2016 has drawn to a close, God let's another year dawn new and bright. How will you spend your new year? Will you spend it wallowing in the past of the year before? Will you spend it reminiscing about what happened to you in the past? Or will you jump at each new opportunity, learning from the challenges of the year before, and growing from them? Every new day in this new year brings new opportunities for growth.
Throughout the new year, we can learn to cherish everyone we care about. We can also learn to make every second of our days count as much as possible. Every new day is an opportunity to be thankful for every aspect in your life, no matter if things are going well or if life is a struggle. Even if life is a struggle, take time to remember how blessed you are and remember that God is with you through your struggles. Life brings new memories that are yet to be made during this new year. Maybe it offers a new job to be had, new friends to be made, new things to learn. Each new day is a gift from God that can be learned to be fully appreciated.
Take advantage of every new opportunity and every new day that God gives you, to reach out and touch someone with kindness, peace, love and friendship that He has given you. It is never too late to share God's love with people you know and even more so, with people you don't know. Witnessing and bringing people to Christ can be one of the best aspects of your new year. It can bring about more believers and help you make lasting friendships, just by being willing to tell others that Jesus is the one true way.
While we are trying to make sense of what direction our lives will take in the next year, God already knows where we will end up whether it's day by day or second by second or hour by hour. Even when our time comes to leave this earth, God knows when it is our time to go home to Him and will give you the peace that comes with knowing His promises. No matter what happens to you this year, God has every day in the palm of His hands.
God will allow you to experience different scenarios in your life to strengthen you for each day ahead. Ask God to give you peace in your heart and His inner strength to face each new day of this new year and the challenges that come with daily life. In Philippians 4:13, His word says: 13, "I can do all things through Christ who strengthens me." And in Isaiah 40:29, it says, "29 He gives strength to the weary and increases the power of the weak." Ephesians 6:10: "Finally be strong in the Lord and in His mighty power." These verses prove that He gives you His power throughout your life and that He wants a relationship with you. He also wants you to use the tools He gave you to fight the spiritual battles faced every single day. He uses His power through His word to give us the strength, courage and perseverance to face all our battles. He is constantly work through you in your life. Even in the midst of trials, God always gives you a way out, whether it is through prayer, through reading His word daily, or through the comfort of friends or family.
Give everything your all in 2017. Don't let anyone talk you out of following your dreams. Follow your heart and your dreams. Do your best at anything you do. When times get tough, turn over your worries to God and leave them at His feet while you continue to do His work. Don't let anyone or anything stop you from finding God's purpose in your life. Don't let anything or anyone stop you from doing what He wants you to do. He sees each and every one of us as His precious children, and will give us the tools needed to face each new day this year, head on. Keep moving forward in 2017 and use this year as a chance to renew your life. Renew your relationship with God, with your family, friends, or relationships with a coworker. Renew yourself every day, with positive affirmations such as, "I'm God's child, He loves me and I know He's in control." In Romans 8:28 it says," 28 And we know that in all things God works for the good of those who love him, who[a] have been called according to his purpose." With this verse, He assures you that He will continue to work in your life as long as you don't give up or lose sight of that purpose that He has placed on your heart. This year is your year. Everything will work out for God's purpose. No matter what you choose to do this year, do it for both God and yourself.
Some people choose to go back to school and finish their degree or change their degree in order to get a better job, to make more money in order to provide for their families. While others may be offered a raise in their profession, God may tell others to leave their profession to follow a calling that He placed on their hearts.
Whatever position you find yourself in your life, always keep the faith that God will guide you through each day with His mercy and grace.
Remember no matter what happens in a day-to-day basis God will always make a new way out of any situation. He can and will always make a way when there seems to be no way. While you are waiting to see where your life will go, you can also take appropriate actions to help stay on the right course. You can develop an even more personal relationship with God. Call on Him daily through prayer and petition. Ask for His guidance through every aspect of your day. When life gives you a tough situation, ask Him to help you turn that tough experience into a lesson in which He strengthens you. Remember, God often gives His toughest battles to His strongest soldiers. Life may not be easy, but God can help this new year be the best year of your life.