Most recent UPDATE: Cleveland Kidnapper Get Plea Deal – Life + 1000 years (Amada Berry, Gina DeJesus, Michelle Knight won't be dragged through courtroom trial)
http://blog.beliefnet.com/watchwomanonthewall/?p=26466
~~~:~~~
THE ABDUCTIONS OF 3 YOUNG CLEVELAND GIRLS
ARIEL CASTRO'S HOUSE OF HORRORS – 2207 SEYMOUR  – THE STORY

A former Cleveland public school bus driver accused of kidnapping and raping three women during a decade of captivity in his house in a low-income part of town, appeared briefly in a Cleveland court on Thursday, standing silently with his head bowed before returning to jail where his lawyer said he would be isolated and placed on suicide watch.  A judge set bond for the suspect, Ariel Castro, at $8 million – $2 million each for the three young women and a child born in captivity.  Cuyahoga County Assistant Prosecuting Attorney Brian Murphy told the Municipal Court judge. "Today the situation is turned on him," Murphy said. "Mr. Castro stands before you a captive, in captivity, a prisoner."
The $8 million bond set by Judge Lauren Moore was higher than the $5 million requested by the prosecutor.
FOUND ALIVE – MIRACLE IN CLEVELAND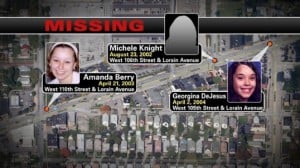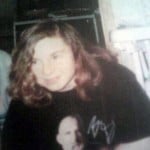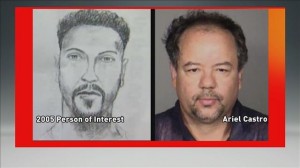 * Owner of the house, Ariel Castro has been charged with 4 counts of kidnapping (one for each of the victims, Michelle Knight, Amanda Berry, Gina DeJesus, and Amanda's 6 year old daughter – Jocelyn. The police said they believe only Ariel was involved in the kidnapping and raping of the three women at this time who he starved and brainwashed to control.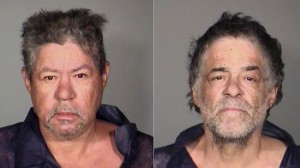 * Brothers of Ariel Castro, Onil and Pedro, who were in custody too have not been charged with any counts of rape or kidnapping; however, they remain in jail for other outstanding wants and warrants.

* Michelle Knight disappeared in 2002 at age 21, Amanda Berry in 2003 at 16, and Gina DeJesus in 2004 at 14, all last seen on the same city block of Lorain Ave in front of a shopping center.[4] While confined, the women had multiple pregnancies, at least one live birth (Berry's daughter – Joycelyn), and multiple miscarriages.[5] The women were at times bound with chains and rope.[6][7]  All three women were sex slaves to Castro.
* Cleveland police say investigators have found ropes and chains inside the house at 2207 Seymour Avenue, Cleveland, Ohio, where three women were found alive, until May 6, 2013 when Amanda escaped and called 911.
* Reports of multiple pregnancies (at least 5) occurred among the kidnapped victims and it's been reported that there is evidence that there is "disturbed" earth in the backyard.  It has been also reported that the victims while pregnant were beaten until the pregnancies were miscarried.
* Michelle Knight was last seen when she left her cousin's house on August 22, 2002. She disappeared near West 116th Street and Lorain Avenue, on a day she was to appear in court for a child custody case concerning her son.[12] She was 21 years old at the time of her disappearance.[13][14][15] According to a report by the officers who found Knight, she accepted a ride from Castro, but he instead drove her to his house. She was tied up in the basement, and beaten, though eventually moved upstairs to a locked room.[16][17]  Police and family members came to believe that Knight may have left on her own, believing she was frustrated after losing custody of her son.[12] Her mother thought she had once seen her with an older man at a shopping plaza on West 117th Street.[18]  She called out "Michelle" but the woman she thought was her daughter never turned around. Knight ran into an officer's arms when she saw him, her chest hurt and she could barely breathe. Michelle was free for the first time in more than a decade. Michelle told a law enforcement source that Ariel Castro offered her a ride home that fateful day in August 2002 while she was on West 106th Street and Lorain Avenue. Michelle said she was impregnated at least five times by Castro, who reportedly would abort each baby by punching her in the stomach until she miscarried.
* Reports have been made that in the basement of Castro's House of Horrors, letters appear on the wall, "RIP" with an name (not identified) written next to them.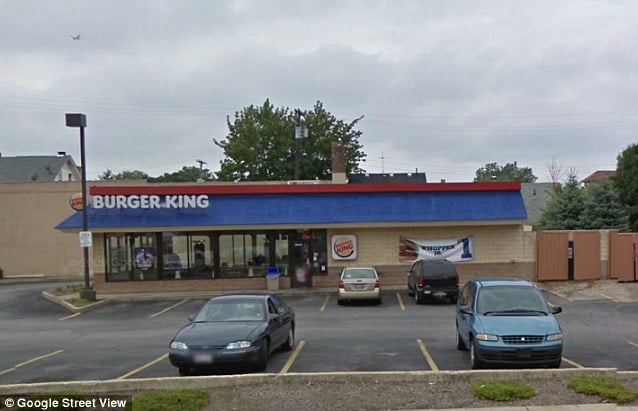 * Amanda Berry (Amanda Marie Berry) went missing on April 21, 2003, at age 16, one day before her 17th birthday.[19] She was believed to have made it home from her job at a Burger King at West 110th Street and Lorain Avenue, and she changed from her uniform at her family's apartment, but no one witnessed her there.[20] She left money and all her clothes at home, and was known to have had plans to celebrate her birthday the next day.[20]  Berry has told police that after her shift a Burger King, she accepted a ride home from Castro, who said he had a son who worked there as well. She called her family to say she was getting a ride home, but instead was taken to Castro's house and imprisoned.[21]  Police initially considered Berry a runaway, until a man used her cell phone to call her mother, Louwanna Miller, claiming the teenager would return in a few days and that they were married.[20] Miller searched for her daughter for three years, but died in 2006 of heart failure.[22] Berry was featured in a 2004 segment of America's Most Wanted, which re-aired in 2005 and 2006 and linked her to Gina DeJesus, who had subsequently also gone missing in Cleveland.[22][23] They were profiled on The Oprah Winfrey Show and The Montel Williams Show, where self-described psychic Sylvia Browne told Miller in 2004 that her daughter Amanda was dead, and that she was "in water."[24][25][26][27] Browne received significant media criticism for her prediction being "false and potentially damaging."[28]  Before her disappearance, Berry had been in a gifted program at John Marshall High School, but had switched to an online home school program in which she was on track for early graduation.[20]told the law enforcement source that Castro also offered her a ride home, telling her that his son worked at Burger King so dropping her off there wouldn't be a problem. Amanda had her baby, Joyclen, on December 25, 2006, in the house in a plastic pool "so the mess was easier to clean up," the source noted. Michelle delivered Amanda's baby girl and Castro told her if the baby died, so would she.  At one point, the source said Joyclen had stopped breathing, but Michelle gave her mouth to mouth until she came back to life. Jocelyn was born December 25, Amanda said Jocelyn didn't know Michelle or Gina's real names in case they were out at a public place, like a park, so people wouldn't know what was going on. A friend who ate often times with Ariel at McDonald's said he usually had the little girl with him, but she was blond, apparently wearing a wig. On day of the escape, Amanda said the big inside door was left unlocked when Castro left but the storm door was locked. Amanda tried to get it open but told the source she was afraid to break it open because she thought Castro was trying to "test her." A description of Castro and his vehicle were provided which led to the alleged abductor's arrest at a nearby McDonald's.
* Ironically, Charles Ramsey, one who helped Amanda's exit had just come home from McDonald's and was eating a Big Mac when he heard the frantic captive's screams for help.
* Gina DeJesus (Georgina "Gina" Lynn DeJesus) went missing at age 14.[29] She was last seen at a pay phone at about 3 p.m. on April 2, 2004, as she headed home from Wilbur Wright middle school at West 105th Street and Lorain Avenue. She and suspect Ariel Castro's daughter Arlene Castro had called Ariel's wife, Grimilda Figueroa, asking to have a sleepover at DeJesus' house, but Figueroa said they could not.[30] Berry and DeJesus disappeared within five blocks of each other, perhaps even on the same block.[31][32]   DeJesus said Castro offered her a ride to his house to see his daughter, her friend. Instead she was placed in captivity. [33]  No AMBER Alert was issued the day DeJesus disappeared, because no one had witnessed her being abducted. The lack of an AMBER Alert angered her father, Felix DeJesus, who said in 2006 that he believed the public would listen even if the alerts become routine.[34] A week after Gina's disappearance, police released a sketch and description of an Hispanic man aged 25 to 35, 5 ft 10 in (1.78 m) tall, weighing 165 to 185 pounds (75 to 82 kg), with green eyes and a pencil-thin beard. The suspect had been seen near her school driving a light blue or white car, and asking for Gina.[35]  DeJesus was featured on America's Most Wanted in 2004, 2005, and 2006, and the television program also linked her to Berry.[36] The disappearances received regular media attention over the years, as recently as 2012, while family and others held vigils and searched for DeJesus and Berry. Ariel Castro was identified by Gina's family in video footage of two of these vigils[37][38] and he reportedly participated in a search party and tried to get close to the family.[39] Police kept an active investigation open, offering a $25,000 reward for information on their location.[40][41]  Gina said she didn't think she was ever impregnated by him.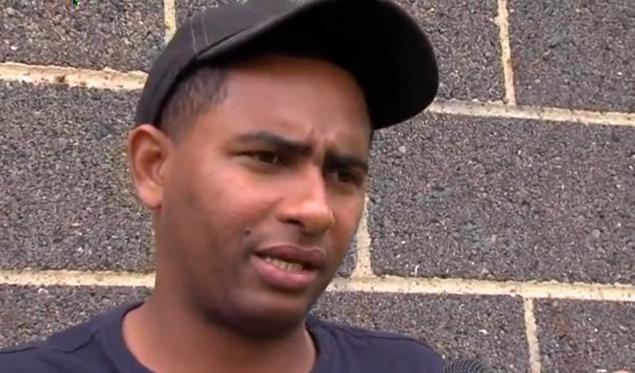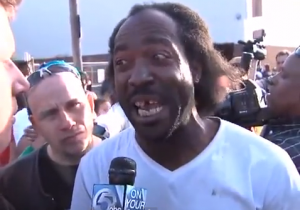 MIRACLE IN CLEVELAND – Discovery and Escape to Freedom – On May 6, 2013, Knight, DeJesus, Berry, and a previously unknown 6-year-old female child of Berry were found in a home at 2207 Seymour Avenue, in the residential Tremont neighborhood 3 miles (4.8 km) from where the three young women had disappeared.[42][43][44][45][46] Neighbor Angel Cordero responded to the noise of a woman screaming,[47] but was apparently unable to communicate with the women inside the house, since he spoke little English. Another neighbor, Charles Ramsey, joined Cordero at the door and said that a woman, later identified as Berry, told him that she was being kept in the house with her baby against her will.[48] Because the door was locked, Rasmey and Cordero together kicked a hole in the bottom of it, and she crawled through, carrying her daughter.[48] Berry was wearing a jumpsuit, white tank top, rings, and mascara.[48] Upon being freed, she went to the house of another Spanish-speaking neighbor[47] and called 9-1-1, saying, "Help me, I'm Amanda Berry … I've been kidnapped and I've been missing for 10 years. And I'm here, I'm free now."[48][49]  Several responding officers crawled in the broken bottom of the front door and searched the house with guns drawn. One of the officers saw a pair of eyes peeking through a slightly opened upstairs bedroom door. Michelle Knight fled the room and leapt into the arms of an officer, repeatedly saying "you saved me".[clarification needed] (Cleveland Police Chief McGrath said no officers entered into the Castor house at that time that the women ran out.) Soon DeJesus entered the hall from another room.[50] All three women and the child were taken to MetroHealth Medical Center.[51] They were all released from the hospital by the next morning, although Knight later returned for unspecified reasons.
* All three women told the law enforcement source they were chained in the basement but eventually freed and allowed to live upstairs on the second floor.  None of them have been to a doctor since their abductions and neither has Joyclen.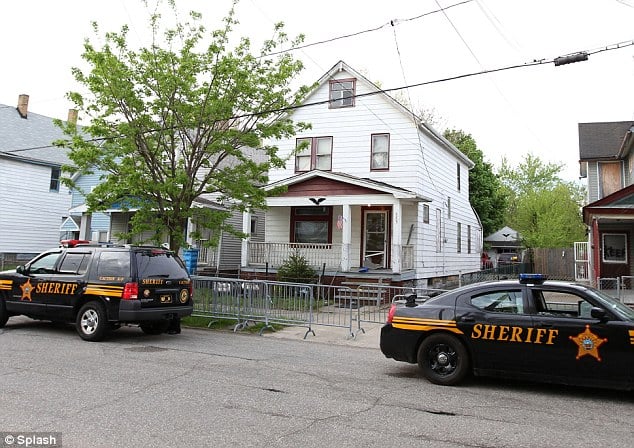 * Investigation developments – The three woman said they were only twice taken outside, in disguise, and only as far as the garage.[53] An unnamed police source said the young women had multiple miscarriages and at least one live birth.[54] WKYC reported that the women were raped repeatedly by their captor, and beaten severely when they became pregnant.[7] According to The New York Post, one young woman had three miscarriages, and Knight may have suffered hearing loss from the beatings.[7] According to a police report obtained by CBS News, Michelle Knight had five miscarriages caused by starvation and beatings by Castro to her stomach.[55][56]  Interviews with the victims revealed the three women only left the house twice during their captivity and that was in disguise and only to go to the garage.[1]  The suspect is believed by police to have fathered Berry's 6-year-old daughter, and a warrant for the suspect's DNA has been obtained.[1][57] The girl was at times taken from the home, and visited the suspect's mother, calling her "grandmother".[58]  Various law enforcement officers searched Ariel Castro's property collecting evidence. A cadaver dog was used,[59] but no human remains were discovered.[60]
* Cleveland Police Chief Michael McGrath, appearing on NBC's "Today" show, said the three women were bound with ropes and chains found inside the two-story home.  He insisted that police had no record of any calls about strange activity at the house, although neighbors claimed they called police to the Seymour house three times.  However, it is obvious that the neighbors have also made false statements to news people in the past day or two claiming that they had seen a naked woman crawling around the backyard on Seymour forced to wear a dog collar attached to a chain.  That cannot be true because the three women victims,  Michelle Knight, Amanda Berry, and Gina DeJesus, told police that they were only outside on two occasions and they were made to wear wigs and sunglasses and keep their heads down – and that they were taken into the detached garage.  They were never outdoors naked on chains.
* Neighbors have told media outlets they saw buses and vehicles on occasion pull up, stop, and males bringing in huge amounts of fast food bags and containers causing them to wonder why all that food was being carried into the Castro house.
* Some are questioning why the 911 operator did not stay on the phone with Amanda Berry when she called after she told the female dispatcher she was Amanda Berry who has been in the news for the past 10 years and was being held in captivity every since — saying:  "I'm free — hurry, send police before he gets back!" In that call she named Ariel Castro as her abductor.  Amanda apparently after a time had been given the privilege of watching TV by Castro.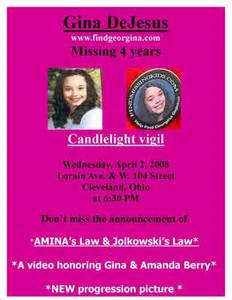 * It was reported in newspapers that a flyer announcing one of the candlelight vigils for Gina DeJesus was found in the basement of Castro's House of Horrors.
* A recent newspaper article said that Ariel's house at 2207 Seymour was in foreclosure due to three years (2010-2012) of unpaid real estate taxes, at the time of his arrest in 2013.[81].
 * THE PRIME SUSPECT – Ariel Castro – 52 years old at the time of his arrest, is the son of Puerto Rican immigrants; his father, Pedro Castro, emigrated to the continental United States in 1954, first living in Pennsylvania and then moving to Cleveland.[61][62][63]
Ariel Castro knew the DeJesus family, and his family had grown up in the same west Cleveland neighborhood, according to his uncle, Julio Castro, who ran a grocery store half a block from the Castro house.[64][65]
Castro met his future wife Grimilda Figueroa when the Castros moved into the house opposite her own family's home during the 1980s. At first, Ariel and Figueroa lived with both sets of parents. They moved into their own house at 2207 Seymour Avenue together in 1992.[66]
Castro owned and lived in the home at 2207 Seymour Avenue since 1992, when he bought it for $12,000. It was a two-story, 1,400-square-foot (130 m2), four-bedroom, one-bathroom house with a 760-square-foot (71 m2) unfinished basement built in 1890 and remodeled in 1956.[67][68][69]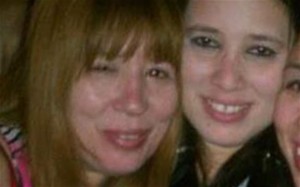 Castro's former sister-in-law Elida Caraballo said "All hell started breaking loose, I would go over to the house and be knocking at the door, and she was there and he wasn't, and I'd say 'Open the door' and she'd say 'I can't, he locked it'." She also claims Castro beat his wife, broke her nose, ribs and arms, once threw her down stairs which broke her skull.[70]
Ariel Castro had been arrested for domestic violence in 1993, and spent three days in jail before being released on bond, but a grand jury declined to indict him.[71][72] He was also arrested in December 1993 for disorderly conduct, to which he plead guilty.
Ariel Castro has at least four adult children, including three daughters and a son.[73]
In 1996, Ariel Castro was accused of pulling a fence post from a neighbor's property. The neighbor's 6-year-old daughter stepped in the resulting hole and fell, hurting herself. Court documents detailed significant hostility between the neighbors, and Castro said he spoke with police "on a number of occasions" about the neighbor. Castro was ordered to pay $241 in damages.[74]
According to her relatives, in 1996 Ariel's wife left after a particularly bad beating, taking their four children with her. Police assisted in the move out and detained Ariel but did not pursue charges.[75]
Photos of Castro in 2001, provided by his family, show a padlocked basement door inside the house.[76]
Castro has been charged with kidnapping Michelle Knight in 2002, with kidnapping Amanda Berry in 2003 and kidnapping Gina DeJesus in 2004 and imprisoning them in his house.
Ariel Castro's son, also named Ariel Castro but known as Anthony, wrote an article in June 2004 about the Berry and DeJesus disappearances for the Plain Press, when he was a journalism student at Bowling Green State University.[72][77] He interviewed the mother of DeJesus for the piece.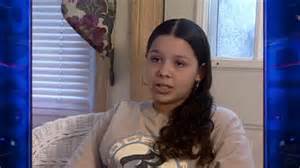 Arlene Castro, a daughter of Ariel, was a school friend of DeJesus and appeared on America's Most Wanted in 2005, saying she was the one who last saw DeJesus before her disappearance. They discussed Arlene Castro going DeJesus's home and called Castro's mother, who said no. DeJesus than started walking home and was not seen again until rescued in May 2013.[78]
Although they were no longer living together, Castro's violence against his ex-wife continued according to his sister-in-law.[79] According to a 2005 filing in Cuyahoga County Domestic Relations Court, Castro was accused of attacking his former wife, Grimilda Figueroa. Figueroa twice suffered a broken nose, and suffered broken ribs, a knocked-out tooth, a blood clot on her brain, and two dislocated shoulders. Attorney Robert Ferreri requested that a judge "keep [Castro] from threatening to kill" Figueroa, and said Figueroa had full custody with no visitation for [Castro] of the children. The attorney claimed that Castro "frequently abducts daughters and keeps them from [sic] mother."[74] A temporary restraining order was granted to Figueroa in August 2005, but the matter was dismissed without prejudice in December 2005 after Figueroa's attorney did not appear at a hearing.[80]
Castro is also charged with the kidnapping of Amanda Berry's daughter, said to be born on Christmas Day 2006 in a plastic pool in the Seymour Street house.[81]
Castro was stopped six times by Cleveland Police between 1995 and 2008 for traffic violations.[82]
The Seymour house was in foreclosure due to three years (2010-2012) of unpaid real estate taxes, at the time of his arrest in 2013.[83]
Castro worked as a bus driver for the Cleveland Metropolitan School District for 22 years, from February 1991 until he was fired for "bad judgment" in November 2012 after a series of issues including making an illegal U-turn with children on the bus,[64][84] using his bus to go grocery shopping, and finally for leaving the bus unattended while he took a nap at home.[85] He was earning $18.91 per hour at the time of his discharge.[86]
Grimilda Figueroa, Castro's former wife, died in 2012 of a brain tumor. Her family believes that the tumor may have been the result of injuries inflicted by her husband.[87]
Neighbors described Castro as seemingly normal, and observed that he mostly kept to himself.[88]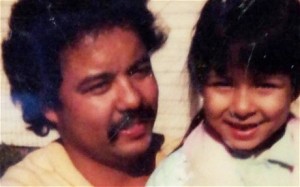 According to his former sister-in-law, Castro had dinner with his daughter Angie in his house just hours before the captives escaped the house. "She thought he was the perfect dad," said her aunt. [89] After the arrest of his father, Anthony Castro described his father's house "The house was always locked. There were places we could never go. There were locks on the basement. Locks on the attic. Locks on the garage." He said his father asked him about three weeks before the escape if Amanda Berry would ever be found. When the son said she was likely dead, the elder Ariel Castro responded: 'Really? You think so?'[90][91]
On May 9, Castro made his first court appearance in Cleveland Municipal Court and bail was set at $2 million per case, for a total of $8 million.[92]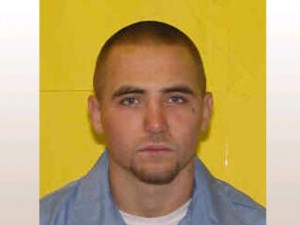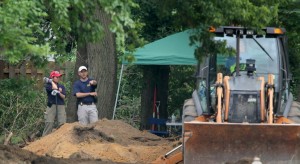 Other criminal charges related to the investigation – In January 2013, Robert Wolford, a prison inmate who used to live in the neighborhood from which the women disappeared, was sentenced to four and a half years after pleading guilty to obstruction of justice, making a false report, and making a false alarm for providing a false burial tip in the disappearance of Berry. He led the police to a location in Cleveland, which was dug up with backhoes, but at which the police found nothing.[34][22]
MIRACLE IN CLEVELAND – THE BEST MOTHER'S DAY GIFT EVER – GIRLS, NOW WOMEN COME HOME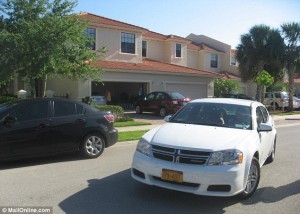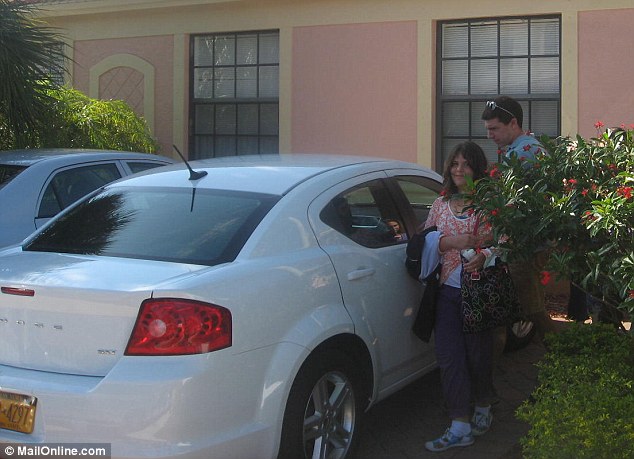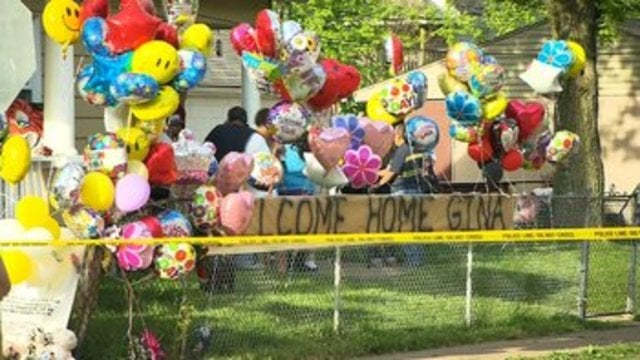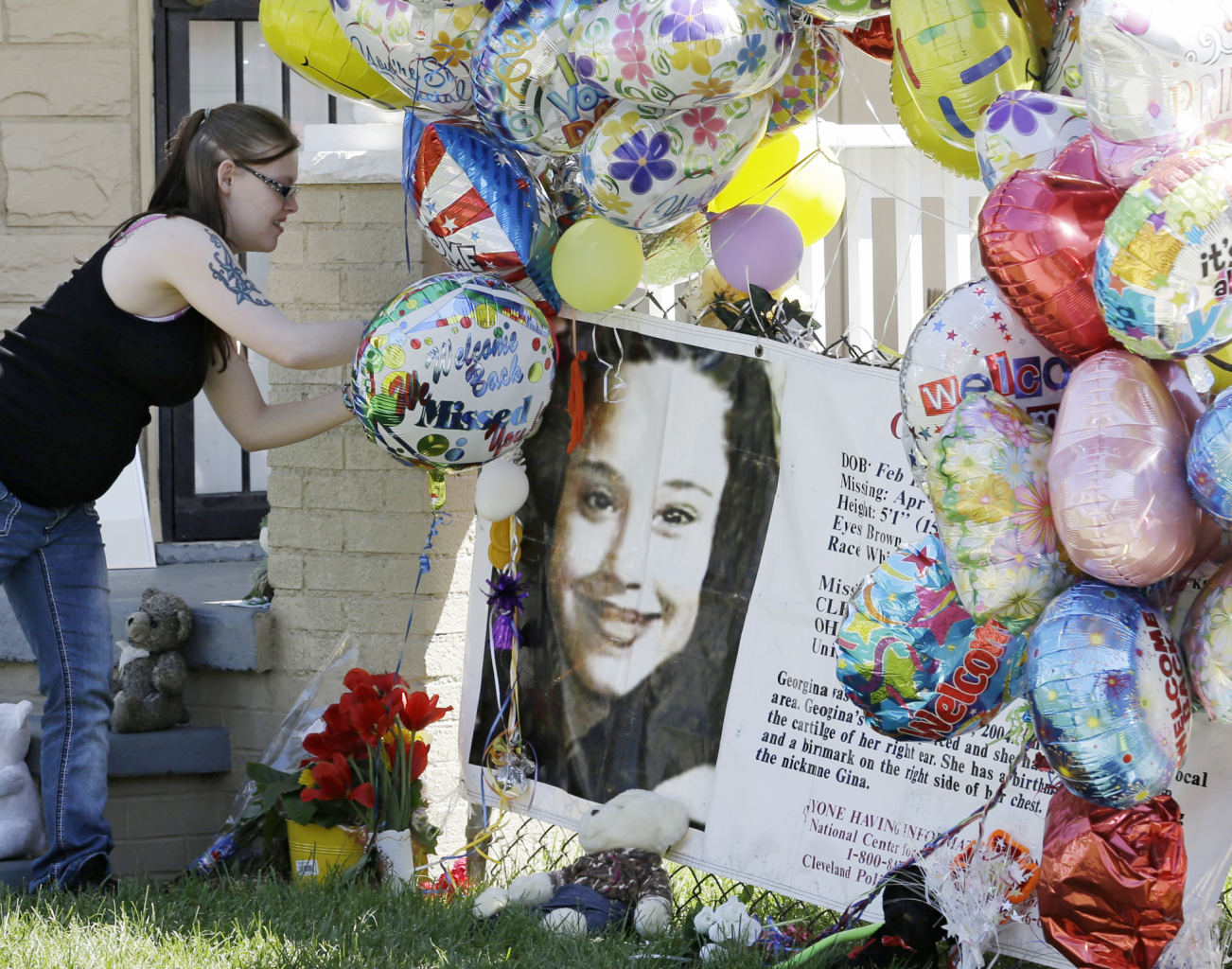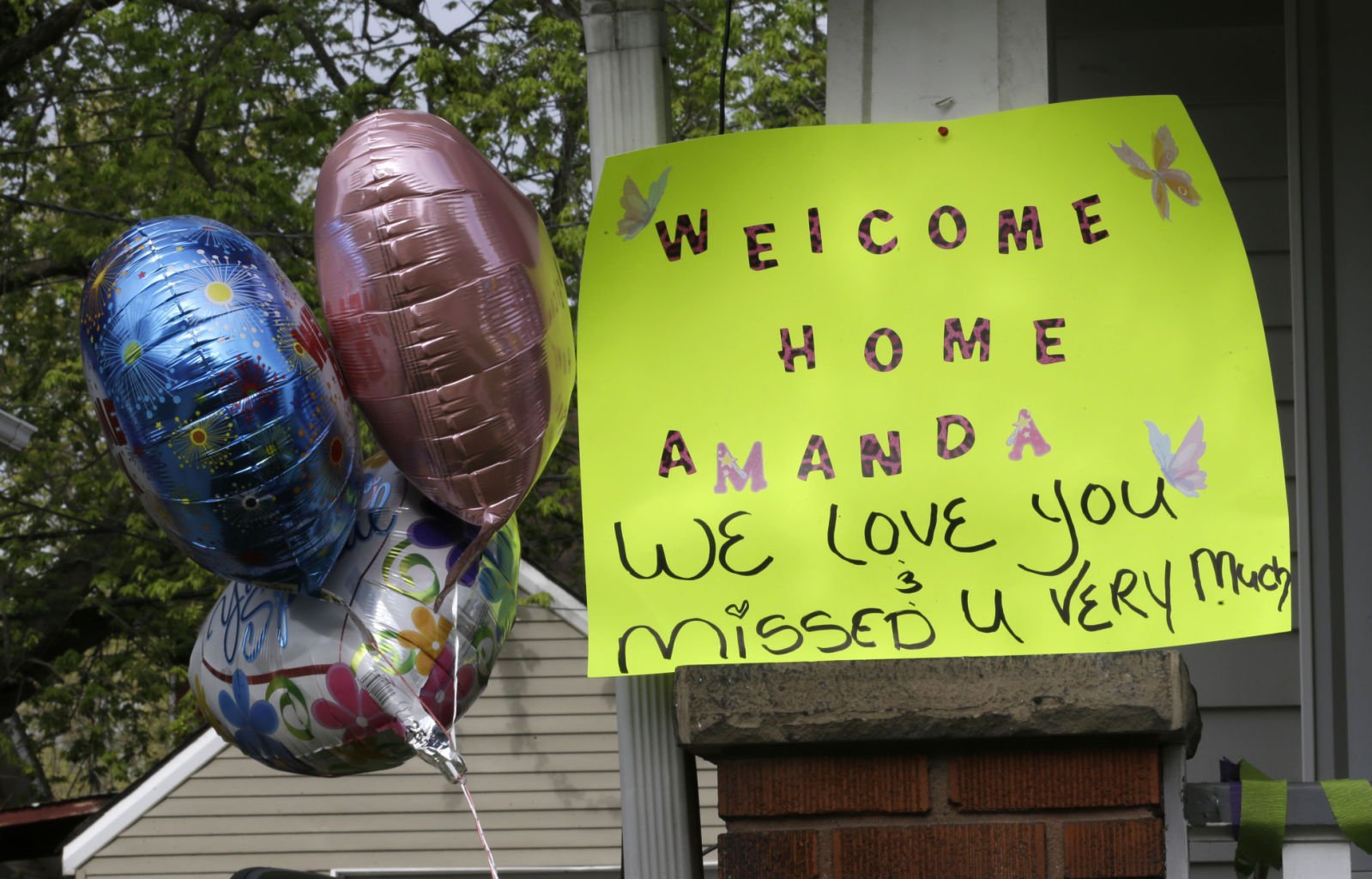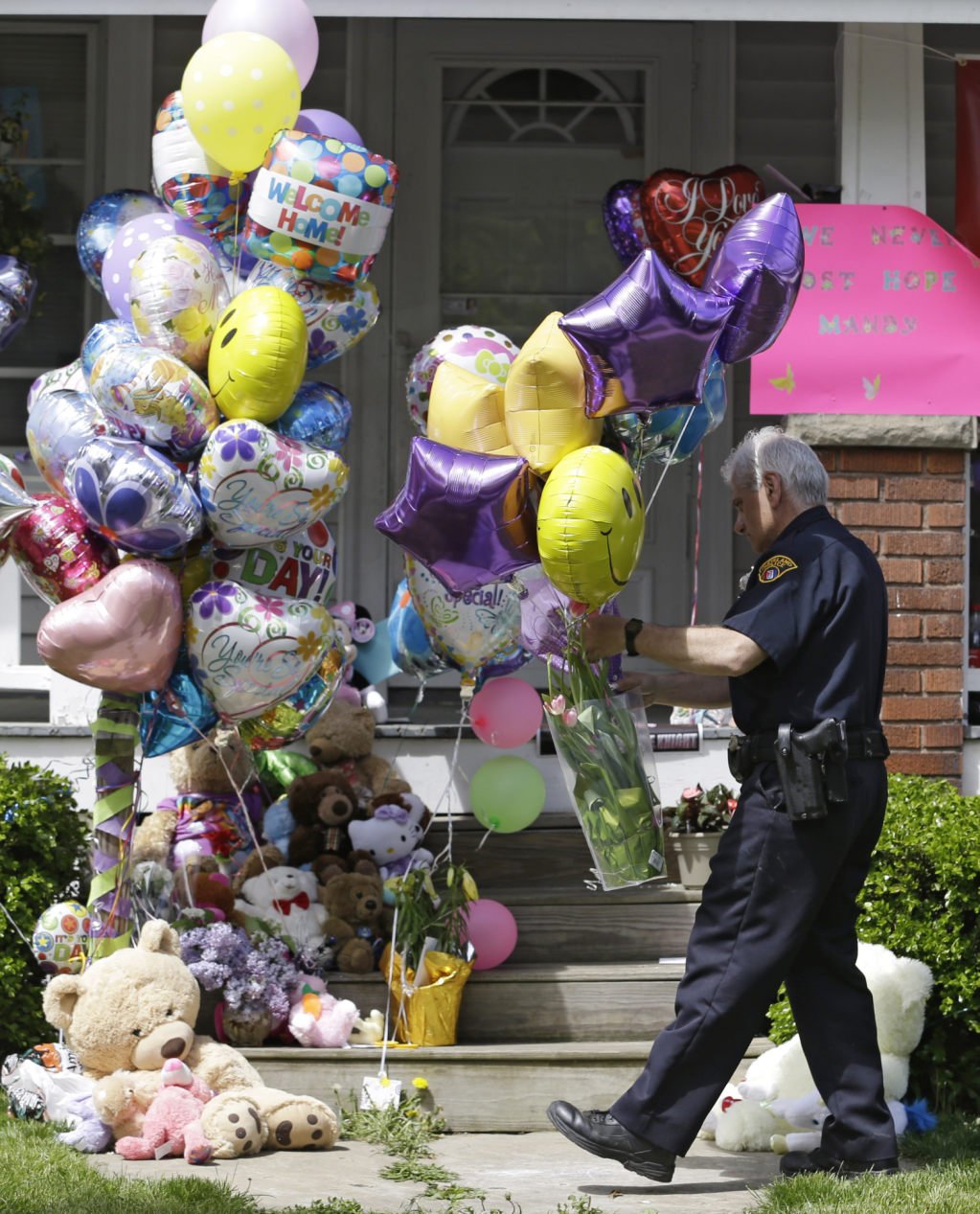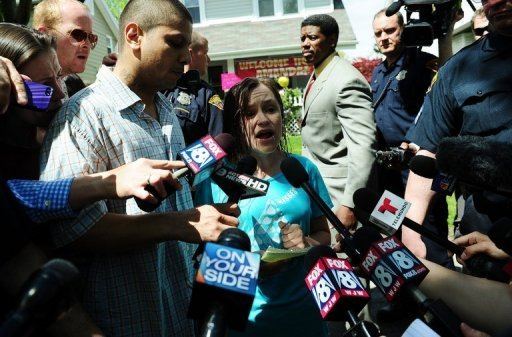 MICHELLE KNIGHT IS STILL NOT REUNITED WITH HER FAMILY AND SHE HAS BEEN READMITTED TO METROHEALTH MEDICAL CENTER BECAUSE SHE WAS HAVING SEVERE ANXIETY AND NOT ABLE TO COPE. SHE IS LISTED IN GOOD CONDITION. REPORTS SAY MICHELLE HAD A DISORDER PRIOR TO HER KIDNAPPING THAT SOMETIMES CAUSED HER CONFUSION IN UNFAMILIAR SURROUNDINGS. MICHELLE IS NOT GETTING THE BOUQUETS FLOWERS, THE MOUNDS OF BALLOONS, THE STUFFED ANIMALS, THE GIFTS, THE CROWDS OF WELL-WISHERS, THE VISITORS AND THE ATTENTION OF THE OTHER TWO, BUT MAYBE SHE DOESN'T WANT IT??? LET US OFFER OUR PRAYERS FOR MICHELLE.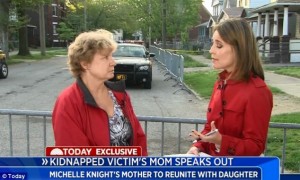 Knight's mother told WKYC she has had limited interaction with investigators, and has not yet been able to speak with her daughter, who is still in the hospital.
"I just wanted to hear her voice.. just let me know that's her," she said to the station.
"She does not want to be seen by family," the grandmother said.
Michelle Knight's younger brother, Freddie, saw his sister at the hospital Monday, according to WOIO.
He told the station that he and his twin sister, whose name has not been released, were abused by their family and that their mother, Barbara, abandoned him in a dumpster years ago.
Freddie Knight also says he did not even know his sister had been missing until she was found. "I was freaking happy as hell, because I didn't know my sister was kidnapped," he said, according to the Post. "My mom never tells me anything."
Freddie Knight said his mom, Barbara, kicked him out of the house when he was 14 and he was estranged from the rest of the family. But the years melted away when he saw his sister at the hospital.
"I hugged her because she wanted a hug," he said. "My sister is going to move on, forget the past …. leave it behind, start anew."
When Knight does leave the hospital, it's unclear whether she will return to Barbara Knight, who admits that her relationship with her daughter Michelle was strained when she disappeared in August of 2002.
+†+
WHILE THERE HAS BEEN A MIRACLE IN CLEVELAND THERE STILL NEEDS TO BE A TON OF HEALING FOR THESE TORTURED AND EXPLOITED ABDUCTED YOUNG WOMEN 
FOR THEY ARE NOT ALONE. 
MILLIONS OF OTHERS ARE STILL MISSING. 
Possibly connected to the disappearance of Gina and Amanda we should remember Ashley Summers who since 2008, police have been investigating her disappearance.  Ashley Nicole Summers' family must be going through immeasurable grief at this because police have mentioned that Summers disappearance might be possibly related. Summers was born on June 16, 1993, and last seen on July 6, 2007. Summers also disappeared from the same five-block area in Cleveland as the women who were found. She was initially reported as a runaway after a family argument, taking her clothes with her. She called her mother a month later to say she was well, but she had not been heard from since. Summers' step-grandmother believes she spotted her in a car in November 2007. In April 2009, the FBI said it suspected that the same man abducted Summers, Berry, and DeJesus, a belief that has not changed with the recovery of Berry and DeJesus alive. The abductions of Amanda Berry, Gina DeJesus, and Ashley Summers were covered together The Oprah Winfrey Show in October 2009. .[93][94] .[95][31] [96] (Wikipedia)
Let us pray…Father God in heaven.  This has been a horrible heinous crime against these three women; Michelle Knight, Amanda Berry, Gina DeJesus, and the 6-year-old child, Jocelyn, born on one of the most special days of the Christian Faith, Christmas Day, 2006, to Amanda.  Father God, I beseech You to be a Father to the fatherless.  I am overwhelmed, so that I barely know how to pray.  Father God in heaven, You know every detail and You know exactly what is truth and what is fiction. You are the Father to the fatherless. These three woman and the little girl are going to be having emotional experiences like soldiers who have been through a wartime prison experience of torture and brainwashing. You know exactly what they need and how to best provide it. I barely even know what to pray for these four victims. Therefore, Father, I just leave it up to You. I believe. Give them the gift of belief.  I know that all things are possible with You and I trust You to send the Holy Spirit to surround everyone involved in this situation, including the family of Ariel Castro. Many of them are innocent in that family.  Protect them from all the chaos that has been thrust into their lives as well. They are victims too. Therefore, heal everyone involved in this heinous horror of sexual exploitation by sending comforting witnesses who bring them all The Good News of The Gospel of Salvation, Redemption and Forgiveness in the Love of Jesus Christ, for it is in His Name, we offer this prayer. Bring salvation to everyone involved in this who sordid affair of torture even to the point of intentional starvation!  Bring all it will take to cause Ariel Castro to repent so that Satan will be denied his eternal soul. Give him all he needs to repent and beg forgiveness for all his horrible deeds. In the Spirit and Boldness of Jesus Christ, we pray for Your Will, not the evil one's will to be done.  This crime has been so long-lasting and beyond my comprehension.  Even so, I know as all Christians do, that You cared for these three young women who were kidnapped — and there still could more victims we have not heard about yet including disappearance of Ashley Nicole Summers who since 2008, police have been investigating her disappearance as being possibly related. Ashley was born on June 16, 1993, and was last seen on July 6, 2007.  Summers also disappeared from the same five-block area in Cleveland as the women who were found. The FBI suspected that the same man abducted Summers, Berry, and DeJesus, a belief that has not changed with the recovery of Berry and DeJesus found alive.  The family of Miss Summers has to be in a very sad state of mind.  Their grief, LORD, is so unbearable, I barely know how to pray!  There are so many victims here.  The three women, their families, Jocelyn, the daughter of Amanda but the victims extend throughout the Lorain Avenue area, neighbors and friends — even into the Castro family.  Many of those people are humiliated and embarrassed to be associated with their evil relative, Ariel Castro, whose shame falls on their family name.  God comfort all the victims touched by this horror of horrors.  God, we not only pray for these victims but for all the missing and exploited kidnapped victims, some who are right now being sold in the sex-trafficking, white-slave trade.  Moreover, there are hundreds of thousands of Christians in the middle east who are being tortured and forced into sexual prostitution given to over to Islamic men as sex slaves simply because they claim Your Name, Jesus Christ.  There are Coptic Christian women are being tortured, raped and worse just because they refuse to deny You, O LORD Jesus Christ.  Father God, I offer a prayer to beg You to please have mercy on every woman and man who right now are being forced into prostitution and tortured for their faith and who stand firm and refuse to deny You.  It means certain death after prolonged torture, even crucifixion.  Here in our own state of Ohio, Toledo is known as a hot-bed of the sex-trafficking evil industry for profit of the wicked.  Nevertheless, LORD, we thank You that Michelle, Amanda and Gina were not sold into that ring of torture and we pray for every child, adult, females and males, who have been and still are being forced and brainwashed, stolen from their loved ones and who have their lives and freedom stolen from them.  My heart breaks and aches.  We should weep like Jeremiah for these people and throw ourselves face down daily begging for these horrors to end.  All I can say is, "Come quickly, Lord Jesus, and bring an end to evil being done on planet earth."  However, may we never forget to thank You for protecting each one of us who live in a land like America where sex-trafficking is a crime unlike it is under Sharia Islamic Law.  We pray that You give special insight to the policemen all across the United States of America and the entire world to find those who are exploited, kidnapped and who are being sexually molested by evil people not only out of their perversions, but for profit.  We pray boldly, in the Name of Your Perfect and Precious Son, Who Died to repair all the broken hearts of the broken.  You, O LORD, are our hope and salvation and that is why we pray in Your Name, Jesus Christ.  Heal our Land!  Let it be done just like You told us…If my people, which are called by my name, shall humble themselves, and pray, and seek my face, and turn from their wicked ways; then will I hear from heaven, and will forgive their sin, and will heal their land. [2 Chronicles 7:14]

—  Amen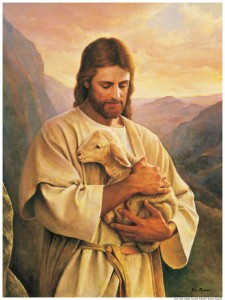 Sources:
 * Wikipedia – http://en.wikipedia.org/wiki/2013_Cleveland,_Ohio,_missing_trio#
* Scores and scores of newspaper items – excerpting one or two lines  – and/or just reading and digesting disseminated mountains of information
* Watching morning, noon, dinner hour and nighttime Local TV News from Channel WKYC-3,  WEWS-5, FOX-8, and WOIO-19
* Listening to live police and press conferences since Monday, May 6, 2013 to the time of this posting
RELATED POSTS ON WATCHWOMAN ON THE WALL