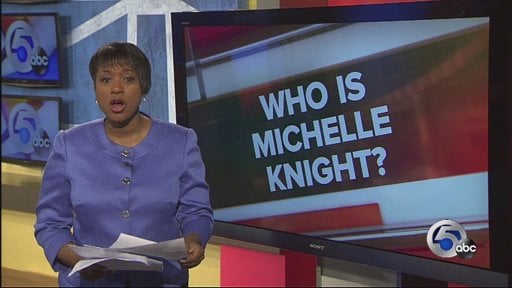 For a decade, the community has followed every development in the missing-person cases of Gina DeJesus and Amanda Berry — from their families' pleas for their safe return to the tips that led police to excavate a West side house in a futile search for DeJesus' body.
But the public knows little of Michelle Knight, the third woman discovered alive Monday night in a Seymour Avenue home on Cleveland's West Side.
Knight, 30, who was 18 at the time of her disappearance on Aug. 23, 2002, was last seen at a cousin's house near West 106th Street and Lorain Avenue.
Knight's grandmother, Deborah Knight said in an interview Monday that, based on the recommendation of police and social workers, family members had concluded that Michelle likely left on her own because she was angry that her son was removed from her custody.
But Michelle Knight's mother, Barbara Knight, said she and Michelle were close, and she never believed that her daughter would disappear without a trace, without so much as an occasional phone call.
Barbara Knight, who now lives in Florida, said long after police stopped searching, she papered Cleveland's West Side with fliers. And even after moving out of state, would often return to continue the search on her own.
Knight said she believes she once saw her daughter walking with an older man at a shopping plaza on West 117th Street several years ago. When the woman trailed behind her companion, he would grab her by the arm and pull her along, Knight said. She said that she yelled Michelle's name, but the woman did not turn around.
By Monday night, neither Deborah nor Barbara Knight had heard from police, and both were gathering what details they could from media accounts.
Barbara Knight said she hopes that police have correctly identified her daughter, adding that she would be heartbroken to return to Cleveland only to find that Michelle was still among the missing.
"I'm praying that if it is her, she will come back with me so I can help her recover from what she has been through," Knight said. "So much has happened in these ten years. She has a younger sister she still has not met. I missed her so much while she was gone."
Read More: http://www.cleveland.com/metro/index.ssf/2013/05/michelle_knight_missing_for_de.html