WARNING: CONTAINS GRAPHIC POST-MORTEM PHOTO

Amazing New Details from the Chase for the Boston Bombers
…the younger suspect came at officers in a carjacked SUV. The cops were able "to dive out of the way," and the younger suspect then continued to drive directly over his brother and dragging him through the street
The police chief of the Watertown police department shares amazing new details of the chase for the Boston bombings suspects from Thursday night into Friday evening:
The police chief, Edward Deveau, describes how cops nearly apprehended the older suspect, and were placing handcuffs on him in the middle of the street Thursday night, when the younger suspect came at officers in a carjacked SUV. The cops were able "to dive out of the way," and the younger suspect then continued to drive directly over his brother and dragging him through the street. That's how the older suspect (Tamerlan Tsarnaev) died, according to the police chief.
The younger suspect eventually dumped the SUV and ran into the darkness of the night, according to the police chief. It took nearly 18 hours and massive manhunt to find the younger suspect. He (Dzhokhar Tsarnaev) gave himself up after a 20-minute negotiation with the FBI, he said, but not before the suspect fired more rounds at the authorities.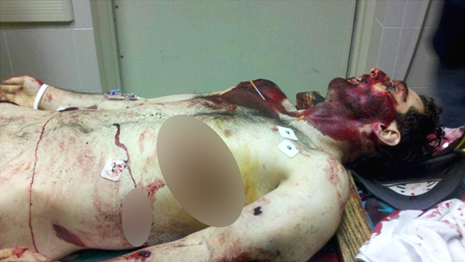 The bombers were armed with "pipe bombs and explosives," some of which appear to have been homemade hand-grenades. They had "at least 6 bombs, if you will," says the chief. They also had a some guns.
The chief also says that "there was a major explosion in the middle of the gun fight" between officers and the suspects, Thursday night, when a pressure cooker bomb, like the ones used in the Boston Marathon bombings, went off in the residential area.
The interview with the police chief took place today on CNN.
Read More: http://www.weeklystandard.com/blogs/amazing-new-details-chase-boston-bombers_718135.html