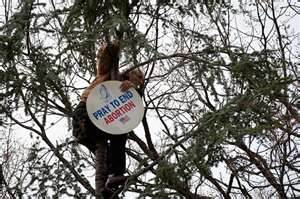 Rives Miller Grogan has something to say. The way he says it keeps getting him in trouble at the U.S. Capitol.Now, after the 47-year-old Californian allegedly climbed 40 feet up a tree near the Capitol reflecting pool and tried to shout down President Obama's inaugural address on Monday, a judge has ordered him to stay away not only from Capitol building but from the District entirely.
Grogan, an antiabortion activist, eluded capture for five hours on Monday. A Capitol police spokesman said he annoyed onlookers below by loudly shouting.
[Calvin's Comment:  Grogan could be somewhat like  renown historical figures, genuine heroes and martyrs for the faith.  Remember John the Baptist?  He also shouted and harassed another evildoer who was disobedient to the Law-Word of God as commanded in the Holy Bible.  It cost John the Baptist his head for shouting the truth!  Read: (Matthew 14:3 & 4)  For Herod had laid hold on John, and bound him, and put him in prison for Herodias' sake, his brother Philip's wife.  (4)  For John said unto him, It is not lawful for thee to have her.   -:-   History proves once again that tyrants never take kindly to criticism!]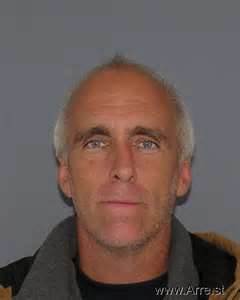 He had just been arrested and charged with disorderly conduct last week, after police said he shouted from the gallery of the U.S. Senate. He's been convicted five times in the District since 2009, mostly on charges of disorderly conduct and disobeying police. He's typically been fined and given probation and suspended sentences that result in short jail sentences.
Police said Grogan once dropped to the ground in the Capitol Rotunda while clutching a doll and screamed in front of 60 visitors. Another time, police said, he paced the Capitol steps holding a bible and shouting, "Stop killing the babies."
In June, police said, he stood up in the Senate gallery and yelled "Obama doesn't see the light," prompting the president of the Senate to bang his gavel several times to restore order.
Police said that they tried to talk Grogan out of the tree before Monday's ceremony began, and then turned to the fire department for a ladder. The fire department's truck couldn't fit through the security barricades, and Grogan climbed higher when police brought their own ladder.
Officer Shennell S. Antrobus, a U.S. Capitol Police spokesman, said officials decided to leave Grogan in the tree until after the swearing in to avoid disruptions. Police said he came down on his own after five hours.
Antrobus said Grogan had a green ticket to the inauguration, which required him to be screened before entering the area near the president.
Police charged Grogan with violating a previous order to stay away from the U.S. Capitol, and with violating laws that require authorities to "preserve the peace and secure the Capitol from defacement," and with "preventing any portion of the Capitol Grounds and terraces to used as playgrounds … to protect the public property, turf and grass from destruction."
A D.C. Superior Court judge freed Grogan at a hearing Tuesday and ordered him to return for another Feb. 25 — for which he is allowed to return to the District.
Grogan's mother, 69-year-old Penny Grogan of Mansfield, Texas, called her son a "wonderful Christian man" who has a wife and three children and runs a ministry.
"God leads him to D.C. to what he needs to do," she said. "You stand up for anything of value, you get arrested.
"Washington is the place where people should be allowed to protest," Penny Grogan said. "God will judge all of this one day, not the courts."
Groganwas one of three people arrested by Capitol Police on Monday. One was arrested on an outstanding warrant, the other for drinking in public.
[Much text in this post was written By Peter Hermann, Published: January 22]
Read More: http://www.washingtonpost.com/local/police-charge-tree-climbing-protester-from-inauguration/2013/01/22/663477e8-64cb-11e2-b84d-21c7b65985ee_story.html