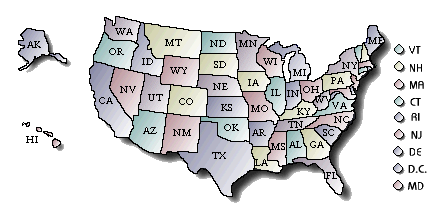 This is just a little portion of the front page of USACOPS. You have to see it to appreciate it. The links are not live on the map displayed above.
From USA Cops, you can click on any state, county, city, location and get all the info you need to make contact with any law enforcement agency across the USA!
At USA Cops' web site there is just about everything you ever wanted to know about law enforcement agencies, more than just the locations of local city's Police Departments, their addresses, phone numbers, but also the Sheriffs, Police Officers, Captains, Police Commissioners, names, etc., etc.  All this information and more is available on this web site.
There's even info about job openings in law enforcement.
This is one you will want to bookmark.