Calvin's Commentary: Why is the word Prophet in front of the name Mohammad? Think hard now, quote the prophecies that Mohammad made. Hummmm, can't think of any? Neither can anyone else! Mohammad said he'd return to Mecca, but so far, he hasn't. — And that's the only prophecy he made. The Bible is filled with thousands of prophecies that have all come to pass. Over 600 are already fulfilled that was prophesied about the birth, life, death and resurrection of Jesus Christ. ▬ Donna Calvin ▬ Wednesday, September 12, 2012
______________________________________________
CAUTION GRAPHIC PICTURES FOLLOW AS A RESULT OF MURDERING MUSLIM TERRORISTS — MORE AMERICANS DEAD ON BARACK HUSSEIN OBAMA'S WATCH!
______________________________________________
After Barack Hussein Obama begs the Arab world for forgiveness
ACT OF WAR! Maybe Muslims attacked the U.S. Embassy in Benghazi, murdered U.S. Ambassador, Christopher Stevens, and 3 other members of his staff including two U.S. Marines, because they were angry that Obama didn't bow down low enough to his Muslim brothers?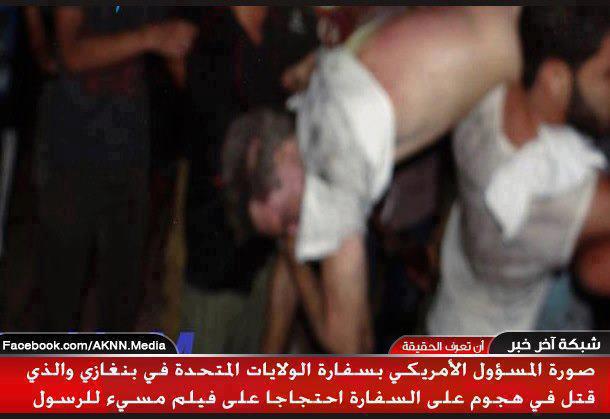 AMBASSADOR STEVEN'S BODY BEING DRAGGED THROUGH THE STREETS OF BENGHAZI BY ANGRY MUSLIMS
GATEWAY The U.S. ambassador to Libya and three other embassy staff were killed in a rocket attack on their car, a Libyan official said, as they were rushed from a consular building stormed by militants denouncing a U.S.-made film insulting the Prophet Mohammad. It has also been reported that U.S. Ambassador Stephens was suffocated and the other three Americans were shot.
Gunmen had attacked and burned the U.S. consulate in the eastern city of Benghazi, a center of last year's uprising against Muammar Gaddafi, late on Tuesday evening, killing one U.S. consular official. The building was evacuated.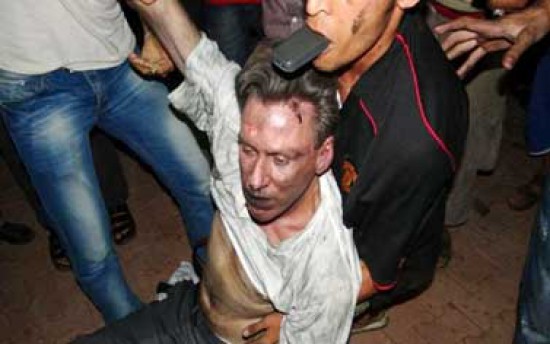 AMBASSADOR STEVENS
The Libyan official said the ambassador, Christopher Stevens, was being driven from the consulate building to a safer location when gunmen opened fire.
"The American ambassador and three staff members were killed when gunmen fired rockets at them," the official in Benghazi told Reuters.
There was no immediate comment from the State Department in Washington. U.S. ambassadors in such volatile countries are accompanied by tight security, usually travelling in well-protected convoys. Security officials will be considering whether the two attacks were coordinated. …
In neighboring Egypt, demonstrators had torn down an American flag and burned it during the protest. Some tried to raise a black flag with the words "There is no God but God, and Mohammad is his messenger", a Reuters witness said.
The Middle East is falling apart, our U.S. diplomats are being murdered, and Obama is out campaigning. But, our "fearless" leader does have time to apologize…to the Islamist murderers declaring war on our country. Nice.
Also yesterday on 9/11, Barack Hussein Obama declines Netanyahu request to meet with Obama The White House's response marks a new low in relations between Netanyahu and Obama, underscored by the fact that this is the first time Netanyahu will visit the U.S. as prime minister without meeting Obama.
CNN BLAMES U.S. FILM MAKER FOR ATTACKS ON EMBASSY
http://www.youtube.com/watch?v=RqmcSP8RjVc
Note that Barack Hussein Obama said that the Ambassadors body was taken to the hospital. BHO omitted that his body was dragged

through the streets.

Palestinians were dancing in the streets on 9/11.
Islamic Cleric defends the attacks of 9/11 saying, "America Deserved It."
Read More: http://www.barenakedislam.com/2012/09/12/after-barack-hussein-obama-begs-the-arab-world-for-forgiveness-for-u-s-made-anti-islam-film-muslims-in-libya-murder-4-diplomats-and-drag-u-s-ambassdors-dead-body-through-the-streets/
LINKS – ANTI-MUSLIM MOVIE – ATTACKS ON US EMBASSIES – AMBASSADOR STEVENS MURDERED & MORE

The movie trailer Muslims are killing over (video – see it here!) UPDATE – Now we know this was all malarkey and the movie had nothing to do with the Muslim Terrorist Attacks!
http://blog.beliefnet.com/watchwomanonthewall/?p=20100
US Ambassador's Dead Body Dragged Through Street (Obama Apologizes to MUSLIMS!) (videos)
http://blog.beliefnet.com/watchwomanonthewall/?p=20073
California judge rules anti-Islam film can stay on YouTube
http://blog.beliefnet.com/watchwomanonthewall/?p=20459
How Obama Radicalized the Middle East
http://blog.beliefnet.com/watchwomanonthewall/?p=20091
What really brought down TWA Flight 800? Investigators want missile theory probed in '96 crash
http://blog.beliefnet.com/watchwomanonthewall/?p=25488

400 US Surface-to-Air Missiles Went Missing in Benghazi
http://blog.beliefnet.com/watchwomanonthewall/?p=27295

al-Qa'ida Threat: U.S. closes embassies, alerts Americans overseas to terrorist threats in August
http://blog.beliefnet.com/watchwomanonthewall/?p=26868

Benghazi bombshell: CNN report alleges consulate full of CIA agents
http://blog.beliefnet.com/watchwomanonthewall/?p=26857

Blame Hillary Clinton for Denying Security in Benghazi's Deadly Attack
http://blog.beliefnet.com/watchwomanonthewall/?p=24703

↓
PLEASE SCROLL DOWN TO
"FILED UNDER"
CLICK ON ANY OF THOSE TOPICS TO TAKE YOU TO SIMILAR POSTINGS
Posted by Donna Calvin — Wednesday, September 12, 2012
Please share this Watchwoman post on Facebook, Linkedin, Google+1, Twitter to all your friends.
Click "Like", Share, and Leave Comments.
Visit Word Warriorette, a free Yahoo Group, and subscribe to be notified (one email a day) of new posts on Watchwoman.
http://groups.yahoo.com/group/WordWarriorette/
DISCLAIMER: Beliefnet puts paid advertisements on "Watchwoman on the Wall" blog site including some that would never be approved of by the King James Bible, Pastor Ernie Sanders of Doers of the Word Church, What's Right-What's Left Radio Ministry, the Voice of the Christian Resistance, Geauga County Right to Life and Donna Calvin. We at www.WRWL.org do not condone, endorse, adhere to, practice or believe in many of the topics and some of what other bloggers promote or their religions at Beliefnet. However, Mrs. Calvin has no control of what Beliefnet displays. She blogs at Beliefnet because she is in the missionary field ministering to true believers posting articles and commentaries informing pro-life, conservative Christians of recent anti-Christian acts and hostile legislation to God's Agenda and His Will for the world. Hopefully, unbelievers will read these along with the salvation message of Jesus Christ as written in the Gospel of John, Chapter 3, according to the King James Bible, and be saved. A missionary must go into the unbelievers' territory to reach them. Her mission is to Proclaim Warning to a Nation that has forgotten their Lord and Savior Jesus Christ, the only Truth, the Life, and the only Way to the One God the Father. (Posted 09/12/12)
BEST OF THE BEST ON WATCHWOMAN
"Inspirational. Do you know for sure?"
http://blog.beliefnet.com/watchwomanonthewall/?p=4928
~†~