READ THE WORD OF GOD FROM THE KING JAMES VERSION
[Romans 1:23-31] And changed the glory of the uncorruptible God into an image made like to corruptible man, and to birds, and fourfooted beasts, and creeping things. [ 24] Wherefore God also gave them up to uncleanness through the lusts of their own hearts, to dishonour their own bodies between themselves: [ 25] Who changed the truth of God into a lie, and worshipped and served the creature more than the Creator, who is blessed for ever. Amen. [ 26] For this cause God gave them up unto vile affections: for even their women did change the natural use into that which is against nature: [ 27] And likewise also the men, leaving the natural use of the woman, burned in their lust one toward another; men with men working that which is unseemly, and receiving in themselves that recompence of their error which was meet. [ 28] And even as they did not like to retain God in their knowledge, God gave them over to a reprobate mind, to do those things which are not convenient; [ 29] Being filled with all unrighteousness, fornication, wickedness, covetousness, maliciousness; full of envy, murder, debate, deceit, malignity; whisperers, [ 30] Backbiters, haters of God, despiteful, proud, boasters, inventors of evil things, disobedient to parents, [ 31] Without understanding, covenantbreakers, without natural affection, implacable, unmerciful: [ 32] Who knowing the judgment of God, that they which commit such things are worthy of death, not only do the same, but have pleasure in them that do them. (Emphasis added)
[John 8:44] Ye are of your father the devil, and the lusts of your father ye will do. He was a murderer from the beginning, and abode not in the truth, because there is no truth in him. When he speaketh a lie, he speaketh of his own: for he is a liar, and the father of it.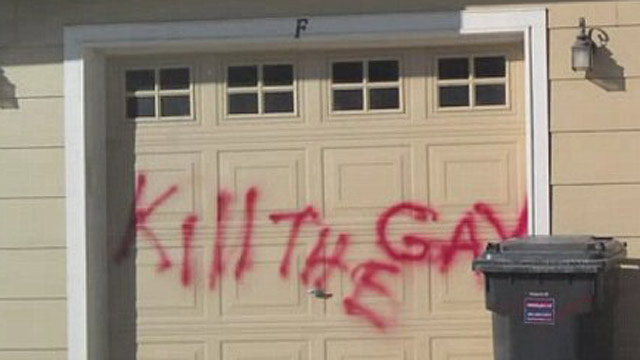 R
A lesbian couple who claimed they were victims of a hate crime have been arrested after police determined they staged the incidents.
On Oct. 28, Aimee Whitchurch, 37, and Christel Conklin, 29, called police and reported the words "Kill the Gay" were scrawled in red spray paint on the garage door of their Parker, Colo., home.
The next day, the couple told deputies they found a noose hanging on the handle of their front door.
The women told officers they believed the incidents were retaliation from their neighbors and homeowner's association, who had complained the couple did not pick up after their dogs.
Due to the nature of the crimes, the Douglas County Sheriff's Office worked in tandem with the FBI to investigate. After reviewing witness statements, authorities determined Whitchurch and Conklin had staged the incidents.
Both women are charged with criminal mischief and false reporting. Whitchurch faces an additional charge of forgery.
She told ABC's Denver affiliate KMGH-TV police were mistaken and vowed to fight the charges.
"This is a fight I started. This is a fight I'm going to finish. This is a fight I'm right on," she said. "I have every right to live where I want to live."
Read More: http://gma.yahoo.com/blogs/abc-blogs/lesbian-couple-charged-staging-hate-crime-164243835–abc-news-topstories.html
---
---
~†~
Posted by Donna Calvin — Saturday, May 19, 2012
~†~
Please share this Watchwoman post on your Facebook page, Linkedin, Google+1, Twitter to all your friends, Please click "Like", Share, and Leave Comments.
Visit Word Warriorette, a free Yahoo Group, and subscribe to be notified (one email a day) of new posts on Watchwoman.
http://groups.yahoo.com/group/WordWarriorette/
~†~
DISCLAIMER: Beliefnet puts paid advertisements on "Watchwoman on the Wall" blog site including some that would never be approved of by the King James Bible, Pastor Ernie Sanders of Doers of the Word Church, What's Right-What's Left Radio Ministry, the Voice of the Christian Resistance, Geauga County Right to Life and Donna Calvin. We at www.WRWL.org do not condone, endorse, adhere to, practice or believe in many of the topics and some of what other bloggers promote or their religions at Beliefnet. However, Mrs. Calvin has no control of what Beliefnet displays. She blogs at Beliefnet because she is in the missionary field ministering to true believers posting articles and commentaries informing pro-life, conservative Christians of recent anti-Christian acts and hostile legislation to God's Agenda and His Will for the world. Hopefully, unbelievers will read these along with the salvation message of Jesus Christ as written in the Gospel of John, Chapter 3, according to the King James Bible, and be saved. A missionary must go into the unbelievers' territory to reach them. Her mission is to Proclaim Warning to a Nation that has forgotten their Lord and Savior Jesus Christ, the only Truth, the Life, and the only Way to the One God the Father.
Read more: http://blog.beliefnet.com/watchwomanonthewall/?p=4928
~†~