Excerpt from: On Capitol Hill This Week, Vol. XIX, No. 2a
Capitol Hill Prayer Partners, "Partners in Prayer for the Nation"
P.O. Box 5152, Herndon, VA 20172-1970 – – – chpp@patriot.net
January 16 – 20, 2012
We have an urgent phone call for a prayer request from Nigeria today, Friday January 13, from Blessing Jibuike. Her father-in-law who also lives in Nigeria, is Brother Emmanuel Jibuike who is a long-time End-Time Servant and one of the ministry's directors.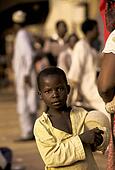 The borders of the nation have been shut and the airport shut down so that nobody can get out. It has been reported that a Jihad group specially trained in Somalia has returned to Nigeria for this Holy War.
Blessing asked that we pray that the Lord of Hosts, Himself, will deliver His people in Nigeria. Pray that the church in Nigeria will be faithful and not be intimidated and for the Blood of Jesus Christ to cover His people. Pray for faith and courage to arise in God's people that a spirit of fear will not overtake them and that the "peace of God which passeth understanding will keep (their) hearts and minds through Christ Jesus." (Philippians 4:7)
[Please note that our office has received other, unconfirmed reports, that the banks in Nigeria have closed their doors, so that citizens cannot withdraw their funds.)
– "For the eyes of the Lord are on the righteous and his ears are attentive to their prayer, but the face of the Lord is against those who do evil." (I Peter 3:12)
Submitted by the End-Time Handmaidens and Servants; January 13, 2012
< snip >
CHPP's blog includes archives of past editions of all of our alerts, as well as features on praying for the government, Iraq, and other key issues. OUR NEW SECTION ALLOWS YOU TO PRAY FOR EVERY BRANCH OF OUR MILITARY, IN DETAIL. Come visit CHPP by clicking here for more information, or by going to: http://chpponline.blogspot.com
___________________________________
Christianity in Nigeria
From Wikipedia, the free encyclopedia
Since the introduction of
Sharia
penal law in some of the
Northern states
, violence between Christians and Muslims has increased.
[2]
Christianity is growing fast in Nigeria and according to the 1963 census, only 35% of the population at the time were Christian as compared to around 50% today.
Christianity is a major religion in Nigeria accounting for about 50% of the population. Based on a 2003 Nigerian Religious and Demographic survey, Christians comprised 48.2% of the Nigerian population.[1] Christians are dominant in the southern andcentral region in Nigeria. Nigeria has the largest Christian population compared to any country with Christians in Africa with more than 70 million persons in Nigeria belonging to the church with various denominations.
Read more about Christianity in Nigeria: http://en.wikipedia.org/wiki/Christianity_in_Nigeria