Excerpt from:   Roy Beck, President, www.NumbersUSA.com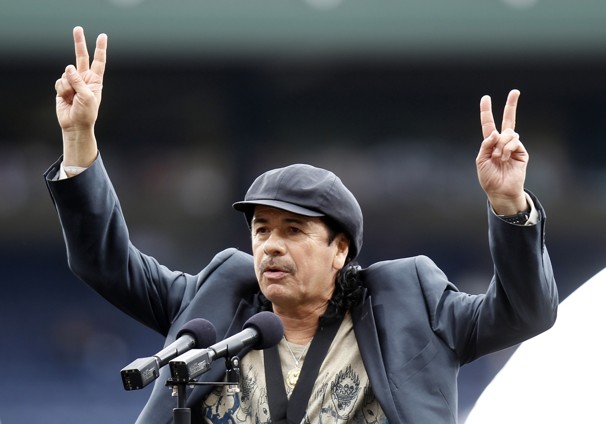 Rock guitarist Carlos Santana may have reached a new low in hate speech against American workers when he took to a microphone on the field before the Atlanta Braves-Philadelphia Phillies game yesterday.
In response to being given a civil rights award, Santana indicated that unemployed Black, Hispanic and White Americans who want jobs held by illegal aliens are as racist as those who turned the hoses and dogs on Martin Luther King and civil rights protesters in the 1960s.
WATCHWOMAN WRITES: I am throughly feed up with Hollyweird's arrogance!  When I received an Action Alert from NumbersUSA  http://www.numbersusa.com , I took action! This is what I faxed to my two U.S. Senators and what I faxed to my U.S. House of Representatives Member. Feel free to copy if you so desire and do likewise!
Dear (Sen. or Rep. Name)

I am disgusted that politicians and celebrities think it is racist for unemployed Americans to get U.S. jobs ahead of illegal aliens.

During the recent Braves – Phillies game in Atlanta, rocker Carlos Santana decided to blast the people of Georgia because their legislators just passed legislation to keep illegal aliens out of jobs: "I represent the human race. The people of Arizona, the people of Atlanta, Georgia, you should be ashamed of yourselves…. This is about fear, that people are going to steal my job. No we ain't. You don't clean toilets and clean sheets, stop shucking and jiving."

Not only do I find his speech offensive and disgusting, I also find it racist. Santana, who is Mexican-born, is saying that non-Hispanic Americans will not "clean toilets and clean sheets." How dare he! Not only does he want to keep Americans out of jobs, he wants to keep (mainly Hispanic) illegal aliens in these jobs. Is he nuts?

I hope you will counter his nonsense (and the nonsense of others) with firm actions. I hope you will support legislation that would mandate the use of the E-Verify system — legislation such as Rep. DeFazio's H.R. 483 or Rep. Carter's H.R. 800.

Sorely disappointed,

Name
Street Address
City/ST/Zip
Find your US House of Representatives Member – http://www.house.gov/
Find your two US Senators – http://senate.gov/general/contact_information/senators_cfm.cfm
Fax Free from your own computer with no long distant charges from any one of these three web sites
http://faxzero.com/
http://www.gotfreefax.com/
http://www.myfax.com/free/