Follow Beliefnet Music on Twitter!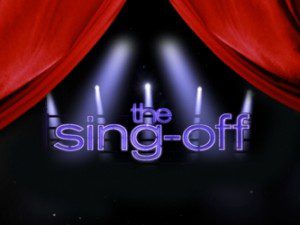 The Sing-Off is back!!!!  And so I'm back with overly-critical analysis of people who are way more talented than I am!!  Let's get it started!!
The festivities started with an epic 8 group rendition of Pink's latest hit.  It's amazing to hear a full a capella performance with that many people at once, and man they all sounded fantastic.  These big group performances are usually a disaster on American Idol and similar shows, but the arrangement here was so tight that the whole thing came off great.  Then we got to meet the judges again.  All I have to say is that Ben Folds is the jam.
The Yellow Jackets – A University of Rochester group was the first to take the stage.  They chose the song "Wavin' Flag" by K'Naan, one of our own religious rappers.  It was a part of a trip that they took to Africa, so it was a neat tie-in to who they are.  Seeing what seemed like forty mostly white guys performing a rap song was a really surreal experience, but the group really had a huge sound and tight enough arrangements.  Even so, there were moments of glory coupled with some problems.  All in all, decent enough and a big way to start the competition!
The Fannim Family – A group of eight siblings.  Wow.  That's a whole lot of kids, but now they form a great a capella group.  They performed a song called "Who Says" that I know because my wife likes it.  All of these kids could sing, but their choreography was pretty dull, and there were some pitch problems.  They got it together as the performance went along, but they won't be one of the best tonight.  It was interesting hearing all of these similar voices singing together.  They'll make it through to the next round.
Afro Blue – This hip college group had a whole lot of soul, which was a nice counter to the previous groups.  The best part was the bassist playing some sweet air bass.  Awesome!!  They had tight harmonies, exceptional voices, and the arrangement was fantastic.  This was the best group so far, and I imagine they will go far in this competition.
Delilah – Former contestants coming back isn't new for The Sing-Off, but Delilah is a whole group of them.  I honestly don't remember much about the groups that these girls came from, but I might just remember this one.  Their performance of Bruno Mars was pretty exceptional, especially considering the derivative source material.  They will be back next week.
After the four openers, it was time to announce who would be the first to leave the show.  The Fannim Family ended up getting the ax, which was surprising to me.  I thought they brought something more unique than the Yellow Jackets with a performance that was just as good.
Urban Method – This was the first a capella group on the show to have a dedicated rapper.  What a cool twist!  They did that Eminem and Rihanna song, with hoodie and everything.  I'm not sure what I was more impressed with – the lead rapper or the incredible mouth percussion.  The arrangement did get a little weird towards the end, like they needed a little bit more time, but overall I'm interested to see what they do next week.
The Cat's Pajamas – Okay, worst name ever, won't hold that against them.  These semi-older gents used to be cruise ship singers and now they do theater shows.  Pretty neat gig.  These guys definitely had the performance aspect down.  Unfortunately it just seemed a little stale after the awesomeness of hip hop rap.  It was a nice show all around though.  Gotta hand it to these guys for putting together a nice career for themselves with theater shows.
 Kinfolk 9 – A diverse LA Group with an interesting sound.  They performed that One Republic song that everyone knows.  Their lead singer had a great voice and even better hair.  Overall, the whole thing seemed rather lackluster with some less than stellar transitions.
Vocal Point – No season of the Sing-Off is complete without Mormons!  This was the first swing performance of the night, and it was extremely well done!  These guys had fun, played some air trumpet, and put it together.  All this while missing one of their members!  They even had a really unexpected breakdown for a bunch of clean cut guys, overall a really creative performance.  The lead singer lost his notes a little at the modulation, but other than that the thing was fantastic!
At the end of the night it was time to send another group home, and unfortunately the Cat's Pajamas had to go.  I could have sworn it would be Kinfolk 9, wrong again I guess!
Check out an interview with Committed, last year's winners!!