We went to the county fair last week and got there before the rides opened up.  There sat the lonely Ferris-wheel spinning around without anyone on it.  It was being faithful to provide the ride it's passengers desired, but alas no riders came.  Around and around it went, giving a fantastic view of the whole fairgrounds.  I could almost feel the wind in my hair as it circled again and again.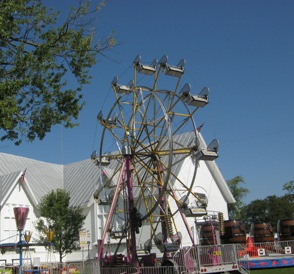 Isn't it sad that God many times provides us with thrills and adventure and we never get on the ride?  We have so many opportunities to serve the Lord and build His Kingdom, yet we seem satisfied to sit by and watch.  Some are simply afraid to try something new.  They worry about failure or letting God down.  If one never tries to do anything new, there is no chance for failure.  But, there is no chance for success either.
New experiences can be scary, but God will always supply what we need when we step out in faith for Him.  His strength is made perfect in our weakness and His grace is sufficient in all situations.  Don't let life pass you by and only be a spectator to the wonderful opportunities He provides for us each day.  Get on the ride.  Fly through the air. See the world from a higher place.  Or, just get on the Ferris-wheel!