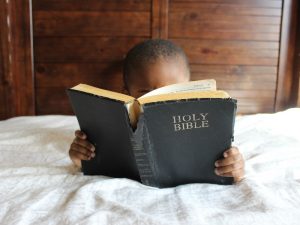 Little children are virtually fearless. As long as they are in a safe home and experiencing love, they seem to have little worries or fears.
They don't worry about what they'll eat for dinner – they just have faith that there will be food. They don't worry about what they look like or what tomorrow will hold. They live in the present moment, enjoying what they are doing right NOW. And not thinking about much else.
It's a trait that we could all stand to have a little more of as adults. In fact, the Bible says several times that we should have childlike faith.
"Truly, I say to you, whoever does not receive the kingdom of God like a child shall not enter it." -Luke 18:17 ESV
"And said, "Truly, I say to you, unless you turn and become like children, you will never enter the kingdom of heaven." -Matthew 18:3 ESV
So, what does it mean to have "childlike" faith? I don't believe it means we have to be completely fearless. But rather, that despite any fears we may have, we can have complete and total trust in God to carry us through. That we can depend on Him fully – like children depend on their Father – and trust that He is in control, so we don't have to be.
Children don't worry about the mortgage or the grocery shopping, or try to take it over from their parents. They just trust that they will take care of it.
And we can do the same with our lives, when we go to God with childlike faith and trust that He is always in control and always faithful.