All holidays are filled with traditions shared within each family. This year, one of my granddaughters decided that we should start another Thanksgiving tradition, dressing (in costumes) for dinner.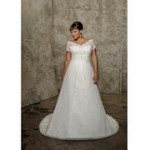 When it was mentioned, I immediately said, "I know what I want to be, a bride." Earlier day, I had seen a wedding dress in a Catholic church thrift store and I had thought that it would be great to have one so that I could preach in a wedding gown when I preach on the Bride of Christ.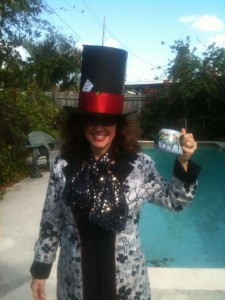 Unfortunately, we didn't make it to a thrift store on Wednesday, so I had decide on another costume. It was great fun as we prepared for the day and tried to surprise each other. My daughter, Carol Howard Merritt, author of Tribal Church and Reframing Hope, dressed as the Mad Hatter.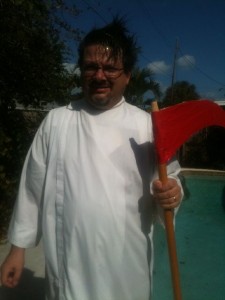 Brian Merritt, her husband, was Father Time. My granddaughter was Kelly, the new CEO of Apple Corp, a workaholic who had to leave the dinner table a time or two to answer her phone. I was Thank Phylnes (pronouced Thank -full-ness).
Brian mentioned before dinner that he knew that he was in the right family when he wasn't the only person wearing glitter. In fact, we all had glitter in our hair, except Kelly who is much too sophisticated to indulge.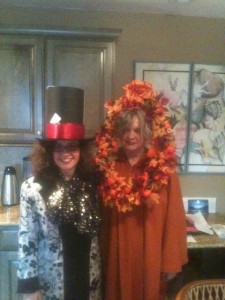 We, of course, went around the table to talk about why we were thankful. Could there be any unthankfulness when you are having dinner with Father Time, The Mad Hatter, Kelly the new Apple CEO and Thank Phylnes? Again, my family knocked the ball over the fence in helping me to enjoy what could be a hard day.
Last year, my husband was dying and we all knew it. Two of our children and their families were here to say good-bye to their father. It was a bitter sweet time. This year there was little thought of sadness but lots of thankfulness that our father and husband was no longer suffering we had survived a large trauma. Sitting at the table with four silly people who were eating too much and looking ridiculous was a wonderful cathartic time for thankfulness.