Understand, I like Herman Cain, the Georgia gentleman who is running for President.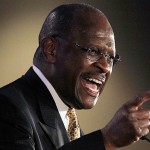 I like that he is a Southern black man and that he speaks his mind. I like that he doesn't have a chip on his shoulder because of the way he has been treated by the world.
I like that Cain is pro-life; and he wants to reduce the national debt. I like that he has good, homespun values that have made him a successful businessman. I like that he can laugh at himself. His faith in Christ isn't hidden but bold and free. I think he and I would be good friends if I ever met him.
Yet, most of the things I like about Herman Cain mean that Herman Cain has a problem. And his problem is us.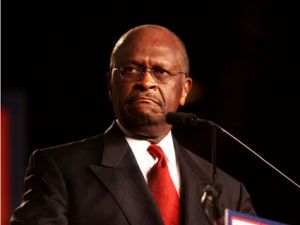 As Americans, we love to love the underdog, especially within the minority communities. Herman Cain ain't no underdog. He wasn't raised a victim and he won't ever allow himself to become a victim. Cain's father worked three jobs to ensure that his children would have more than he had. Cain is the embodiment of most Southern black people. There is more gump and gumpson in nearly all blacks raised in the South than any mule I ever heard about.
While people from the North, West and Mid-west marveled at the movie "The Help," those of us raised in the South in the 1950's merely smiled in recognition. I've met and loved all those women most of my life. Spunky and humble. Delightfully humorous, they go about their daily lives entertaining each other with their antics. They interject just enough silliness into their daily routines to take the edge off the hard work and insults. They love long and work hard. Yet, through it all, these matrons carry themselves with a dignity that shouts, "You hit me and I'll bounce right back up in your face." Candidate Cain presents that determination to the world. However, too much of our society confuses self-hatred with humility. They may see Cain's strength as egocentric. That becomes a deep concern.
Cain's type of bold faith is a problem. We must be careful about being too emotional in the areas of Christianity. Zeal about a loving the God who freely forgives sin can be explosive. Dignified quietness should mark our church services and our worship. Herman Cain could be a fire cracker in a church. He would sing too loud and might even say "Amen" in response to the message. Yep, this is definitely a problem.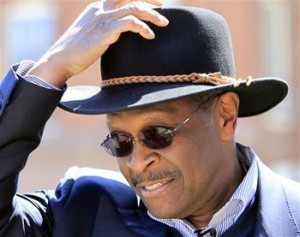 Additionally, Cain carries with him the embodiment of a culture on which most of our nation looks down. And it isn't because he is African-American. It is because he is a Southern gentleman. He says, "Yes, Ma'am" to most women because his mama taught him that it was the right thing to do. He still says, "Yes, Sir," to any older man–black, Hispanic, Asian or white, because as a child his daddy would have tanned his behind if he didn't. Cain is nobody's servant; but he has a servant's heart that desires to show respect to everyone. That's a problem.
Somewhere along the way, many of us–white, black, Latino, and Asian–have acquired a mentality that God put us on the earth so that others can work hard to take care of our needs and solve our problems. Cain shakes up that assumption and stares down an entitlement mentality. Everything about Cain shouts, "Look at me! I made it. Try harder. You can make it, too." That's a problem.
I'm pretty sure that Herman Cain won't be our next president, even though his poll numbers are rising. However, if Cain has his way, our nation will be molded into a stronger and more perfect union by his running for the highest office in the US. I like Herman Cain and I especially like the problem he presents to our nation.