This is a description of a good friend's adventure in December 2010. Dave is a quiet man who is not prone to exaggeration, extremes or drama.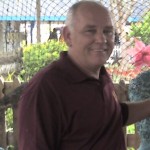 Even though it's been almost a year, each time he tells his experience, he cries. Usually, people who hear the dream cry. In his simple telling, there is powerful evidence of God's mercy and grace.
I had chest pains and was so dizzy I could not lift my head. My wife called an ambulance and I was taken to our local hospital in Melbourne, Florida.

Around 2AM the next morning my journey to heaven began. I went through a

tunnel filled with gorgeous flowers. The colors and smell were nothing I had ever seen or smelled. I went through light on the other side.

I saw a white fence that went on for as far as I could see; and I saw an a

ngel who was just a little bigger than I am. She had wings and she was playing a harp. She played the harp during my entire visit to heaven.

On the other side of the fence I could see a road made of gold and Jesus

standing at the gate. The road was firm and solid but so clear that I could see the clouds underneath it.

When I saw Jesus, I thought, Wow! It is really him. He looks exactly like his pictures, except his eyes are a bright sky-blue. He wore a white robe with gold fringe.

Next, I saw four of my family members. They were dressed in white. I saw my

mother, step-father (who raised me), grandmother (my mother's mother) and my Uncle Mike. (My mother raised him starting at ten years old when my

grandmother died of a heart attack. He was like my brother.) They all looked between 21 and 34

years of age.

I talked with my mother first. I asked her if she was still in pain.

She had died of cancer. She said, "No." She asked me how my brothers and sister are doing.

I talked to my step-dad and brought up that I was disappointed that he never

got around to legally adopting me. That had been his plan, but inadequate funding prevented him from being able to carry out the plan. He was the

Chief of Police of Stow, Ohio. He died of a heart attack when I was 15

years old. He said that he was also very sorry that he was unable to get that done for me.

Next I talked with my Uncle Mike. He also died of a heart attack. He

suffered with heart pain before his death and refused to seek help. I asked him why he didn't go to the doctor and he said that he didn't want anyone to cut him open. I told him that I had open heart surgery and that it isn't that bad and that he could be alive today if he had sought help. He again

stated that he didn't want anyone to cut him open and he was happy in

heaven.

The last family member I talked to was my grandmother. I thanked her for

helping me with my speech when I was in elementary school. At that time, I had a speech impediment. She worked with me on some of the letters that gave me trouble. She told me that was a great time for her being with me. Grandmother was shocked that I remembered this. My grandmother looked younger than I ever remember seeing her.

After I talked with each one of my family present, Jesus talked to me. He

said I could enter the gate if I wanted. However, he said my job on earth was not complete and he wanted me to return. "But," Jesus said to me, "it is your choice." He would let me enter the gate if I wanted. He told me I had a wonderful family.

I told Jesus I would return to earth. Jesus said, "I'm glad you made this

choice."

When I returned, I did not go through the tunnel. I could see my body

sitting up in my hospital bed. I remember thinking, "How am I sitting up? I wasn't able to sit up earlier." You see, I was so dizzy when I came to the hospital, I could not lift my head. I remember floating through the air and returning into my body.

I wanted to call my best friend, Linda, and my wife, Pam, to tell them. I

looked at the clock and it was 3:00AM. Jesus spoke to my heart and said, "You can wait until morning to tell the story. You will remember it."

I waited until morning and called my wife and asked her and my friend to

come to the hospital as I just returned from heaven and wanted to tell them my story.

My friend Linda said she believed I died because I expelled my body fluids and the nurse

had to clean me up. My trip seemed to take about 15 to 20 minutes. Yet, I was connected to heart monitors. I was never pronounced dead, nor did any of the heart monitors show any signs of death. I guess it is true that a day is like a thousand years and vice versa to God. He can do all this work in the twinkle of an eye.