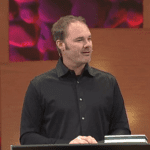 One of the most fascinating passages in the New Testament is found in Philippians 2. There, Paul says that Jesus, although God, "emptied Himself, taking the form of a bond-servant, and being made in the likeness of men. Being found in appearance as a man, He humbled Himself by becoming obedient to the point of death, even death on a cross."
Jesus emptied Himself of divinity out of love for us. The Greek word for "bond-servant" is doulas which translates into English as "slave."
When used literally, it means someone who belongs to another, who has no rights of their own. Metaphorically, it refers to giving ourselves up to the will, control, or dominion of another.
God took the form of a slave. He voluntarily emptied himself.
And Paul urges the church at Philippi to grasp that same reality by putting on an attitude of selfless love.
In this message, I explore some of the realities of becoming empty like Jesus. Why is God so present in our sufferings? Where is God when his people are hurting? What does it mean to become empty–like a slave–to a world in need?
http://vimeo.com/47174173