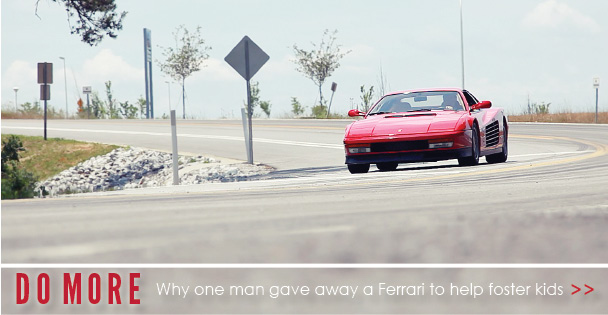 Owning one of the world's most expensive luxury cars was not enough for Carey Brown. He wanted just a little bit more out of his Ferarri Testarossa.
"I wanted it to do more," said Brown of the 12 cylinder super speed demon. "When these cars first came out, the wait list was 6 years long. People were buying them for $100,000 over the sticker price. It was crazy."
What more could you ask from a Ferrari?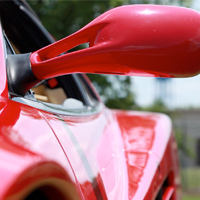 "I went on a mission trip with Children's HopeChest to Swaziland. We spent time with children in several communities who had lost parents due to AIDS. Some of these kids were 8 or 9 and were the head of the household. Thousands of kids who had no family or protection. They had no food, and no education. It was the definition of having absolutely nothing at all."
"After I got involved with HopeChest, I learned that they work around the world, including here in the US, to provide care for orphans. Over 12,500 kids receive some kind of support from HopeChest. Support that will help them grow up into independent adults. Support that's not just their physical needs, but also giving them a chance to know Jesus."
"I help a lot of ministries. I sit on a lot of boards. I review a lot of proposals and forms and requests for help. What makes HopeChest unique is that they get the most money to the most number of kids. They make sure as much of the money as possible is going to the kids that need it."
"I realized that there's all this need. All these orphans around the world and here in the United States who need help. They're just kids. Kids who need a shot. Kids who need an opportunity to grow up to be and do everything God planned for them."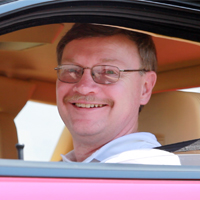 "I figured that as fun as the Ferrari is to drive, it could do more than look pretty and drive fast. It could help these kids. The only way I could get it to do more was to give it away. So I called up Children's HopeChest, and told them that I had just donated them a 1988 Ferrari Testarossa."
And just like that, the Ferrari became the official car of Children's HopeChest.
Working together with Carey, HopeChest's new Ferrari was accepted as a "charity car" at the Barrett-Jackson auction in Orange County, CA on June 22-24, 2012. Barrett-Jackson is the world's leading auction house for collector cars. At approximately 1:30pm on Sunday June 24, someone is going to get a new Testarossa, and HopeChest will get all the proceeds to benefit our U.S.-based "Joel Project," a transitional living home for kids coming out of the foster care system.
Want to bid on the Ferrari? Click here for more information.
See our Ferrari here.
The Joel Project provides housing, counseling, and mentorship to kids aging out of the foster care system. After leaving the system, up to half of foster care kids are unemployed, and roughly one-quarter experience homelessness. For young men in the Joel Project, they are being given a chance to beat those odds through this special program.
"Do more," says Carey. "That's what I wanted to do with my Testarossa. You might not own a Ferarri. But maybe you own something that could 'do more' to help orphans. Find it. Sell it. Send the money to HopeChest. You won't regret it."
We are so thankful to Carey for making such an extraordinary gift to help children in need. The truth is, we all have stuff-big, small and in-between- that we could sell and use the money to help orphans. I'm inviting you to join Carey and do more for orphans. Find something you can sell, sell it and we will use the money to make sure the most number of kids are taken care of with your gift.