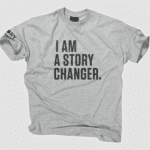 StoryCompany.com has officially launched.
To celebrate, you can get $10 to spend in the store. Use it now, or save it for later, but remember that some products are one of a kind. When they're gone, they're gone.
To get your $10, visit StoryCompany.com and sign up to receive e-mail updates. Once you confirm your e-mail subscription, you'll receive $10 to spend in the store.
The first product is the Story Company T-Shirt, made by an amazing group of people from Color Creations in Kenya.
When you buy products through Story Company you help give people dignity through their creativity and work, the ability to provide for their family, and the opportunity to dream about a future that is different from the present.


Over the coming weeks, Story Company will launch great products from Kenya, Cambodia, Swaziland, India and around the world. Each time a new partner launches, Story Company will share a short video profile to tell the story. And then you can help write their next chapter through your own purchasing power.
So head on over and check out these sweet shirts from Color Creations in Kenya. You can watch their video story right here. It's amazing.