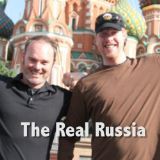 There were many things I hoped would be memorable for Matt Heard's first trip to the Mstyora orphanage. After all, this was the first visit by a Woodmen Valley Chapel senior pastor in the entire 15 years of ministry.
What I didn't count on was the swarm of mosquitoes.
I'm talking mosquitoes of biblical proportions. Anyone who has been out to Mstyora in the summertime knows well the legendary and large mosquitoes that we were treated to.
Undeterred, we made our way into the orphanage, and spent hours talking to kids, the directors, the caregivers, and the disciplers. After our time together, Matt sat down to review some of his reflections of his first visit to Mstyora.