Today's post comes from Caleb David, founder and executive director of One Child Campaign. One Child Campaign is a partner ministry of Children's HopeChest. Thank you Caleb! At the end of this post, you'll have an opportunity to join Caleb on a trip to Moldova and Russia. It's in partnership with Man Up for Orphans and One Child Campaign.
Men and women are welcome to join and we encourage you to get more information today about joining.
Turning the hearts of the fathers…breaking the orphan spirit
by Caleb David, One Child Campaign
"And he will turn the hearts of the fathers to the children, and the hearts of the children to their fathers…" Malachi 4:6 (NKJV)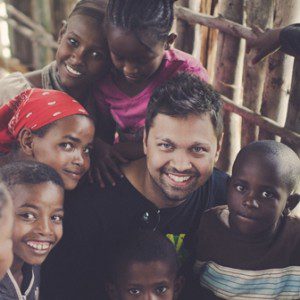 It was in the middle of the Ethiopian countryside as our van ate up the ground, while our eyes took in the beauty, that the course of my life was about to change.
Though I had been on many mission trips and literally led thousands of people on them I knew something was different about this one. After bringing our adopted daughter back from Ethiopia in 2008, there was a gnawing and unsettledness inside of me, so when a friend invited me to go back to Ethiopia with Children's Hopechest – I simply said "yes."
It wasn't until towards the end of the trip, when we were driving a 12-hour trek back from Kombolcha to Addis Ababa, that I knew why I was there.
"I want you to quit your jobs and I want you to give your life for the cause of the orphan."
These were the almost audible, soul-shaking, words I heard from God. I stared out the window and I knew I had to obey. Though we had launched One Child a couple years earlier, God used those words and that trip to sharpen our focus into a more holistic, sustaining form of missions and a call to arms. Not everyone is called to start their own nonprofit ministry, but we are all called to man up for orphans.
"A father to the fatherless, a defender of widows, is God in His holy habitation." Psalm 68:5 (NKJV)
We must stop viewing orphans as those poor, needy kids that we see on television, merely a statistic. Each one is a child of God – with a calling and a destiny to fulfill. Just like us. This is why we are so passionate about short-term trips that focus on connecting people firsthand to see that each child has a name, a face, and desires hope and a future. We need them just as badly as they need us.
It took the sacrifice of Jesus to reconcile us back to God the Father. Being fatherless is a curse – spiritually and physically. Being under this curse brings much more vulnerability without the Godly leadership of a father. The root of the orphan spirit expresses its fruit through hopelessness, disease, hunger, lack of education, oppression and exploitation.
What if we turned our efforts into breaking the orphan spirit? Men (and women), this is the essence of our salvation! However, if we do not understand that we were once orphans ourselves, how can we see that spirit of hopelessness in others in our own families, communities and across the world? Why does the enemy try to stop leaders from seeing the orphan crisis?
It's because when we see a physical manifestation of our former spiritual state, and understand our redemption – we become dangerous! It is our job as men to lead the charge to break the cycle of fatherlessness. To protect and to love is in our DNA but it has been under attack and at the core, it is an issue of identity. We look at life and the world through our own wrong belief systems – the way we look at ourselves. I believe that if we don't look deeply into the perfect law of liberty as James admonishes us to, it's easier to ignore the responsibility.
"But be doers of the Word [obey the message], and not merely listeners to it, betraying yourselves [into deception by reasoning contrary to the Truth]. For if anyone only listens to the Word without obeying it and being a doer of it, he is like a man who looks carefully at his [own] natural face in a mirror; For he thoughtfully observes himself, and then goes off and promptly forgets what he was like. But he who looks carefully into the faultless law, the [law] of liberty, and is faithful to it and perseveres in looking into it, being not a heedless listener who forgets but an active doer [who obeys], he shall be blessed in his doing (his life of obedience)." James 1:22-25 (Amplified)
When you go on a trip, you will see yourself when you stare into the eyes of an orphan boy in Ethiopia or the hollow soul of a little girl in Russia trapped in the sex trade. It's not pretty. But that's exactly where God wants his men and his leaders – staring into the face of the Curse and bringing His light to push back the darkness. Justice is costly, what if Jesus chose not to drink the cup of sorrow in those agonizing hours in the garden? If He is our example of the heart of the Father, why are we continuing to drink from the chalice of indifference?
John 14: 18 "I will not leave you as orphans, I will come to you."
Jesus knew that we needed a Comforter and one of the last promises He made before leaving earth was that He would not leave us without the Holy Spirit.
To care for the orphan and stand in the gap means allowing the Holy Spirit to use us to care for the physical, emotional and spiritual needs of one who lives with the orphan spirit. We may not see immediate spiritual fruit, but in the obedience of meeting the physical needs of an orphan, the long-term change begins. You don't have to change the world – you just have to be obedient to what God speaks to you. The cycle of poverty is not just a socio-economic problem. At the core it's the need for God's redemptive power and His Kingdom to come on the earth and for true identity to be renewed and it must be done through breaking the orphan spirit.
Redemptive love never leaves a person the same way, it seeks to listen, correct, build and repair. It is our God-given calling, every one of us, to be Repairers of the Breach and Restorers of Streets to Dwell in.
If you are ready to man up, consider joining Man Up for Orphans, Children's Hopechest and One Child Campaign on a vision trip or visit their websites to find your connection. In addition, for the first 5 people that mention this post and apply to join the Man Up Against Sex Trafficking: Russia/Moldova trip, we will give away a copy of Tom Davis' book, "Priceless". Space is limited so sign up for the trip today, by contacting Leah Wade for more details and an application.
Compassion and Justice for the Orphan,
CALEB DAVID | One Child Campaign