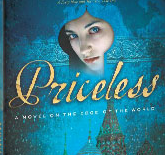 For nearly 15 years, Woodmen Valley Chapel has supported the children of the Mstyora orphanage in Russia. One of the very first pioneering churches to get involved in orphan care ministry, they truly understand how to walk alongside local leadership and empower children to overcome poverty, abandonment, and violence.
Their involvement spread from the orphanage of Mstyora to older orphans sent to technical schools and unfamiliar cities. They established transitional living programs and help launch our Vladimir Ministry Center for older children.
I would say thousands of children have been impacted by their work.
They did this as partners who came to serve local Russian leaders and organizations. They took the time to build relationships with the people who are closest to the children in the orphanage. They even stay with local families in the village of Mstyora–forgoing more comfortable lodging in a hotel. In the time they have supported the Mstyora orphanage, they have taken dozens of trips, and sent hundreds of short-term volunteers to help.
Many of those long-term sponsors have developed lasting bonds of friendship, as they have watched and supported so many orphans as they journey from abandonment to full independence.
Next week, Woodmen Valley Chapel's senior pastor, Matt Heard, will come on a journey to see all of what his church and its members have accomplished this past decade.
I'd like you to come along with us. Please subscribe to the blog or follow me on Twitter to get the latest updates from our trip. Also, I wanted to offer you the opportunity to get a FREE download of the first chapters of my books Priceless and Scared. You can see the trailer for Priceless below. Click the book cover at the top of the post to get your free downloads.
Click here to subscribe to the Red Letters blog and Click here to follow me on Twitter.