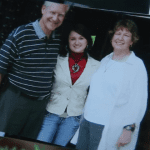 Russia was the place where my heart was broken for orphans.
In 1997, I took my wife and eight-month-old son to run a camp for 150 orphans in the Vladimir region. I was never the same after that experience.
We met a little orphan girl named Anya who was ten. She became our daughter one year later. When I returned to her orphanage to tell her she was going to be our daughter, a hundred other kids were staring at me with empty looks in their eyes.
They were longing for something, something I wasn't sure I could give them.
Two little girls burst out of the crowd and hugged my legs as they looked into my eyes and said, "Papa. Papa." I knew they wanted a family.
That day I made the decision not to turn my back on the rest of those orphans. Instead, I started asking different questions. What could I do to help their lives be different than what the statistics showed?
I couldn't chalk up those times in Russia as merely more experiences in my journey. The orphans I met and the things I saw were just too important. I had to continue changing my life in such a way that Russian orphans were more a part of it. They deserved a better life than the one they were facing, and I could do something to help change their circumstances. That's exactly what I did.
At about that same time, Woodmen Valley Chapel was getting involved in the Russian orphan ministry of Children's HopeChest. They began taking their first trips, and having the exact same experiences as I just described above.
One couple, Dave and Sondra Wayman of Woodmen Valley Chapel, decided to sponsor children at the Mstyora orphanage. This video below is from Yana, one of their sponsored children, as she reflects back on what sponsorship meant to her as a child growing up in an orphanage.
Next week, I'm taking Woodmen's senior pastor Matt Heard to visit Yana's orphanage in Russia. To follow our journey into the Real Russia, please subscribe to the blog or follow me on Twitter.