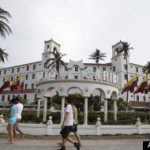 While the investigation continues over the prostitution scandal involving US Secret Service agents in Colombia, there is now growing mention of the link between Colombia's "legal" prostitution zones and sex trafficking.
The first round of coverage focused mostly on the national security implications and the very embarrassing conduct of the President's security detail. Yet as the story deepens, many are looking into the connection between Colombian prostitutes, organized crime, and sex trafficking.
The excerpts below are from three very different news sources, yet they all land on or near the same conclusion:
When U.S. Secret Service agents hire prostitutes, they are contributing to the global sex trafficking problem.
The shock and disappointment may initially come from the fact that we generally regard the "Secret Service" as true heroes. Brave individuals who would protect our country with their own lives. They're the ones willing to take a bullet for the most powerful person in the world–the U.S. president.
In this example–isolated or otherwise–there's a spotlight on the dynamics of "demand" for prostitutes and sex overseas. This would be far less shocking if a group of international businessmen were caught in similar circumstances. But that kind of thing happens regularly.
As long as the demand for sex exists, pimps and brothel owners will ensure there is a steady supply for their customers. The real change occurs not from policies and crackdowns and dismissals and trials. Our need for resolution and order will make sure all of those things happen.
And, the next group of men in a similar circumstance may make a different choice. They may choose not to buy sex from women because they are afraid of being exposed in the media or losing their jobs. They may deem the current risk too high for the reward. But is that change? Or just risk management?
True change may come when we regard the women lining the red light districts of the world as daughters and sisters–women who need protection, support, opportunity, and true freedom. And then acting as if it were our daughters and sisters who were trapped selling sex for their survival.
From the Washington Post:
"In parts of Colombia, prostitution may be legal but, as the U.S. State Department reports, "Colombia is a major source country for women and girls subjected to trafficking in persons, specifically forced prostitution in Latin America, the Caribbean, Western Europe, Asia, and North America, including the United States."
From The Guardian:
"Teresa Ulloa Ziaurriz, regional director of the Coalition Against Trafficking in Women, says that many women in the brothels of Cartagena are victims of sex-trafficking. Women displaced as a result of the internal armed conflict in Colombia were trafficked into prostitution in places like Cartagena. Sex-trafficking became prevalent not only in Cartagena, but in other parts of Colombia when members of the drug cartels used their criminal networks to take over the prostitution trade.

As for the men who are prostitution-users, many come to Cartagena on official business. Teresa Ulloa states that Cartagena has also become a paradise for tourists who seek sex with children."
From Fox News:
"Representatives of the U.S. government should be setting the standard for the world, not feeding the problem of sex trafficking. The chances that the women or girls the Secret Service agents procured for their pleasure were there by free will is very low. Most likely, they were sex slaves.

"The club where the agents went to buy the women has been described as a dingy, windowless brick building. Sex trafficking survivors would tell you that what goes on in such dingy windowless buildings is nothing less than torture."