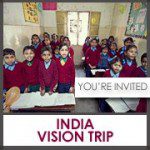 Would you move to another neighborhood or city?
Would you take a pay cut or change jobs?
Would you become a missionary?
Would you accept a teaching position if your classroom was a public toilet complex in an Indian slum?
There's a school in India that's turning the tables for 1,000 children who live in the slums of India.
The first real classroom was in a public bathroom in the neighborhood slum. As the founder said, "If Jesus can be born in a manger, then I can teach children in a public bathroom."
Now they are in a new facility, and reaching over 1,000 children.
These kids are among the poorest in the world. They are the insignificant and the overlooked. The path they walk to school is filled with extreme poverty, open sewage and trash, brothels, forced labor, and human trafficking.
Yet you will see how God has "turned the tables" on those circumstances through the Good Samaritan School. Hear from them, and then get your community involved in sponsoring a classroom of these kids–helping them achieve their dreams in spite of the odds they face. The trip is August 18-26, 2012. [More info on Facebook]
A Vision Trip is designed for pastors of churches and leaders of potential sponsoring communities. On a Vision Trip, participants visit mostly unsponsored locations for the purpose of evaluating how your church or community can become a HopeChest sponsoring community.
HopeChest also has sponsorship programs for leaders of virtual communities–such as blogs, Web sites, Facebook groups, and other social networking communities. These "Connect Communities" function as sponsoring communities without the benefit of weekly worship and contact provided by a church. Potential Connect Community leaders are also welcome to join Vision Trips.
Have questions? Leave a comment or email Michael Vinson our Strategic Partner Director at mvinson@hopechest.org
We also have upcoming Vision Trips to Guatemala, Russia, Uganda, Ethiopia, Haiti, South Africa, Swaziland and Moldova. Please leave a comment if you are interested and we will get you more information.