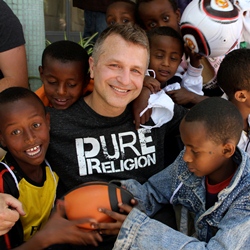 A growing movement of Christian men are stepping up their response to the global orphan crisis. The idea of Man Up for orphans started with Roger Gibson, but soon spread to others including Caleb David of the One Child Campaign, myself, and many others. Motivated by the biblical command to protect the "fatherless," they've come to regard orphans as trapped behind enemy lines.
What's required is for more men to "Man Up," cross into enemy-occupied territory, and deliver them to safety.
Sounds like the plot to an action movie, right?
Sometimes we make peace with the realities of this world. We accept that things are the way they are for reasons we can't control. What can one person do? What could even 100 or 1,000 do in the face of hundreds of millions of children in need?
Those "realists" among us are like the voice of King Saul when he said to a young David, "You are not able to go out against this Philistine [Goliath] and fight him; you are only a young man, and he has been a warrior from his youth."
Do you hear the voice of fear masked as the voice of reason?
David chose to Man Up, first to Saul and then to Goliath." Your servant has killed both the lion and the bear; this uncircumcised Philistine will be like one of them, because he has defied the armies of the living God. The LORD who rescued me from the paw of the lion and the paw of the bear will rescue me from the hand of this Philistine."
Today the world is filled with Goliaths (or to put them in David's terms: uncircumcised Philistines who defy the armies of the living God.)
Yes, the Goliaths are out there. They sell children into slavery. They rape children for money. They force boys to march and kill as soldiers. They sexually abuse and violate young girls. There are Goliaths called HIV/AIDS, extreme poverty, dirty water, infection, injustice, malnutrition, abuse, neglect, violence… it's a long list.
And we have become too comfortable with their presence in our world. Are they not like Goliath? Are they not defying the army of the living God? Are they not the same "uncircumcised Philistine" that David killed with one small stone and one big dollop of faith?
The Bible tells us that David "ran quickly" toward the battle line to meet Goliath. That's what it means to Man Up. It means "running quickly" toward the battle for orphans.
Here are 3 ways that you can Man Up for orphans (whether you are a man or not…)
1. BE IN RELATIONSHIP WITH AN ORPHAN
Take the time and effort to become a sponsor to an orphan through a child sponsorship program. As a sponsor, typically you would commit to a monthly donation, prayer, and letter writing to the child. If there is one thing the kids consistently talk about, it's the letters. See how they make a difference here.
This seems insignificant. It seems like a letter would not ever make a real difference. Sponsorship is how you bring your father's voice into the life of a child. Through letters you offer guidance, encouragement, support, and love. These are things the enemy has robbed these children of. Your voice helps put them back.
2. GO ON A MISSION TRIP
One of the top questions from men about mission trips is "What will I do?" (It's up there with "How much will it cost?" and "How long do I have to be away from work?") More men are needed on mission trips. Your skills, talents, and abilities that you use everyday in the workplace can be put to use on a mission trip for the benefit of orphans. Here's the perspective of one man on a mission trip right now. He happened to be digging a trench for a water line with a power shovel. See how that ended up for him.
There are missions trips leaving almost every day. I would direct you to this one. It is a trip designed to bring men face-to-face with sex trafficking. Sadly, the majority of victims in sex trafficking are women, and the majority of perpetrators are men. Children need the godly presence and consistent voice of Christian men. Be that guy. Go on a trip, and you will never be the same. After you have seen, heard, smelled…it just changes you and breaks your heart. God uses the brokenhearted to heal others. Men, our hearts are sometimes harder to break for God's purposes. Take a journey to God's heart…let your heart break like his does.
3. USE YOUR INFLUENCE TO ATTRACT OTHERS
It's not only orphans and vulnerable children that need your voice. Your voice is needed in your church and your community. Join orphan care ministry efforts at your church. Serve as a rallying point and a standard-bearer for other men to get involved. If no orphan care ministry exists in your church, consider starting one.
You can speak, write article, lead mission trips, attend conferences, hold meetings, meet with adoptive families, support local initiatives…just get involved with your time. Find a place to volunteer. There are always mission trips in need of leadership. Go on a Man Up trip, and then consider how you can give back.
Run, don't walk, run toward the battle lines. You are needed. It doesn't matter that the enemy is bigger or stronger than you. We serve in the army of the living God. Time to Man Up!