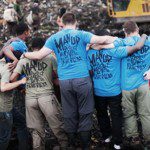 "What can I do to prevent sex trafficking?"
It's a question I get every time after speaking about sex trafficking. This year, HopeChest is offering a first-ever sex trafficking prevention mission trip through our partners One Child Campaign and Man Up.
On October 4-14, you can visit Russia and Moldova on this special trip. While on the trip, you'll visit restoration homes for survivors of trafficking, engage in prevention efforts, and spend time ministering to women and children who are impacted by sex trafficking.
What is Man Up all about?
This trip calls men of God to man up to love, protect, and defend the fatherless. Take a few minutes to watch this video from Man Up, and visit their site to find out more.
Interested in the trip? Send us an e-mail and we'll get you the details.