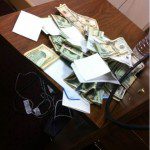 Kristen at We Are That Family reminded me today of the power of one, and one more. A few years ago at a conference, someone challenged the audience to give money to rescue girls from trafficking…and…they did…keep reading to hear the whole story.
Today she asked her readers to get involved with HopeChest by purchasing one of our shirts (which you can do by clicking here.)
But in her article, she tucked a link back to another experience where the small steps of one BOLD person made a huge difference. It was the power of one person doing something extraordinary.
Thank you Kristen, for the shout out on the shirts, and for the reminder of that moment. I've put her article here for you to read.
And if you want to buy a HopeChest shirt–a shirt that will help feed orphans, and restore victims of sex trafficking, and enter you to win a free mission trip–here you go. There's only a few days left, so please don't wait. We close the store soon.
Miracles Happen When You Speak Up
by Kristen of We Are That Family.
I was late.
So, I slipped into the back of the crowded room and crouched on the floor.
I couldn't see the face of speaker, Tom Davis, CEO of Children's Hope Chest at the Together for Adoption Breakout Q&A Session. But it didn't matter, his words still pierced.
He is a modern-day abolishionist, rescuing young girls from the terrifying grips of sex slavery. Every minute a child in our world is trafficked. Every minute.
I listened as he answered questions about the unbelievable life these girls lead, most servicing a dozen or more men every day and the dangerous covert rescue operations that his organization orchestrates with the local police.
It was terrible and beautiful to hear.
[Read the rest of the article at We Are That Family.]