Today we want your lunch money.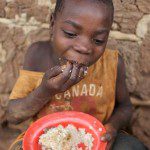 Not because we're terrible bullies, but because we want to make today, Valentine's Day, about something more than chocolate, flowers, and candy. A group of HopeChest sponsors led by Danielle Brower have organized a campaign called "Love4Lunch." All you have to do is click here, and donate whatever you'd normally spend on lunch.
Then, we will use it to provide enrollment fees for children at the Bheveni CarePoint in Swaziland.
WHY IS EDUCATION IMPORTANT?
I learned the secret to fighting poverty and human trafficking on my very first trip to Africa. I didn't realize it at the time because the "story" that I saw was about lack of food, dirty water, sexual violence, and HIV/AIDS.
That story traps millions of children, and needs to change. What is the best way to change a story? To provide hope? To deliver protection? To secure a future?
"It's education, stupid," I realized later. It was so obvious. But I couldn't see past the lack of food and water. I only saw the physical things I could fix quickly. I saw wells and feeding programs and safe housing. I knew education was important, but that would come later.
Friends, education must come now. I am convinced that it is THE primary tool to protect a child from violence and poverty.
I did not easily see that children are 40-50% of all trafficked and exploited persons. I did know that 46% of girls in the world's poorest countries have no access to primary education. I thought going to school was about learning, I did not know that school would:
Delay a girl's first sexual encounter until her 20s (vs. teens).
Cut HIV-infection rates in half.
Decrease the chances of a child being trafficked.
I did not know that the most powerful tool to prevent sex trafficking was education.
EDUCATION IN SWAZILAND
Gugu didn't have lunch money to give. But she spent each day watching young Swazi girls—some of them 12 and 13—look for men to pay them for sex. A widow herself, it broke her heart to watch these young girls trapped in this situation. She asked them, "What can I do to make you stop this?"
"Give us a school," they said. "If we do not learn, we are worth nothing."
The very next day, Gugu started a school underneath a large tree in the village. The girls came to classes to learn, and to reclaim their futures.
Gugu is a hero to many—a saint even. She gave far more than just her lunch money, she gave her life to make sure that children would be protected from sexual violence AND experience the hope and future God intended for them.
I want you to join HopeChest and Gugu in this important work by doing something very small. Giving up the cost of one lunch for one day. Thank you!