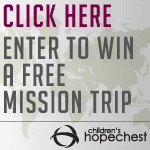 The Simply Love and Man Up T-shirts are here. Our store opened today, and you can purchase your limited edition shirt right now.
Every person who purchases a shirt will receive one entry to win a FREE mission trip with Children's HopeChest. This is a completely transferable prize–use for yourself or give to a friend.
Checkout the launch post and designs from my friend, Kari Gibson!
Welcome to My Crazy Adoption blog!!!! I can't believe I get to say these crazy words again …. We're GIVING AWAY a FREE mission trip!!! My brand new project with Tom Davis' Children's HopeChest ministry starts today!! Tom Davis and I are partnering again, for the second time, with Simply Love and Man Up to make a difference in the life of an orphan. Our two week blitz has three main CAUSES in one amazing project!! Trust steadily in God, hope unswervingly, love extravagantly. And the best of the three is love. (1 Corinthians 13:13)
SIMPLY LOVE:
When you purchase a Simply Love tee- you are supporting the orphanage Haiti Home of Hope in Pignon, Haiti. I just led a Visiting Orphans team to Pignon only a few short weeks ago, so this project is dear to my heart! The donations we raise from Simply Love tees will directly fund the orphanage projects:
Mother's milk [formula] and clinic program
Building project for mother/baby safehouse
A brand new home for a family of 4 living in Pignon
37 orphans permanently living at Haiti Home of Hope orphanage- Food, clothing, and medical care
MAN UP:
When you purchase a Man Up tee- you are supporting the safehouse Beginning of Life in Moldova. Moldova is a small country in Eastern Europe nestled between Ukraine and Romania. The donations we raise from Man Up tees will directly fund the Children's
HopeChest partnership with "Beginning of Life" to offer a rehabilitation home and program for survivors of human trafficking.
Restore victims of sex trafficking through the Beginning of Life by providing:
Safe living conditions in a transitional living facility
Therapy, counseling, and relationships with caring Christian professionals
Food, clothing, and medical care
24-hour supervision
MISSION TRIP GIVEAWAY:
When you purchase a Simply Love or Man Up tee shirt here, you are automatically entered to WIN a FREE Children's HopeChest mission trip. [Trip Value $3000] You can pick any mission trip around the world!!! You win – You pick the trip!! Here's the exciting part, you can WIN the Man Up Moldova trip September 1-10 with Tom Davis and my hubby, Roger Gibson. You can buy 1, 5, or 10 tee shirts to enter to win!! 1 tee = 1 entry to win. Join me here the next 2 weeks for daily posts, mini-giveaways, and updates on the project! Together, lets break some crazy records!!!! We will announce the WINNER on Children's HopeChest Facebook April 2.The Mission Trip Giveaway Project ends on My Crazy Adoption blog March 18th!!
Please share this new project on your blogs, facebook, twitter and don't forget to Pin It!!! We are all in this together! Shopping with Love is the best kind of shopping!!