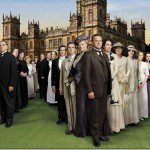 For a fascinating and entertaining look at aristocratic life, look no further than the PBS show, Downton Abbey. Set in the early part of the twentieth century when the old European aristocratic life was on the decline, Downton offers a look into how true aristocrats and "noble" families lived.
Watching Downton, it is hard to believe that the noble Grantham family actually wants to live this way. They are dressed by servants who do everything but cut the food and put it in their mouths. But to the nobles it's just their normal way of life.
"What is a 'week end?'"
In one of the early episodes, Maggie Smith's matriarchal character asks that question to a distant relative, a lawyer who works for a living but by chance is poised to inherit the entire family estate and title.
Her clueless question is a killer laugh line. But that laughter quickly turns uncomfortable.
Could you imagine the global poor asking us questions like:
What is dry cleaning? or What do you mean by "vacation clothes?" or You have parks made of water that you play in?
Are we the NEW aristocrats?
The other fascinating part about Downton is how easily you can see why we turn to simple, money-based solutions like aid. Not only is it the easy option, we are positively drowning in money (globally speaking). Our relative wealth and position in the world make money-only solutions to poverty so darn attractive.
If we just throw some money at it, they'll use it the way we would (or the way we think they should).
Take a moment to read this blog post from one of the richest people in the world. She's a "ten talent" servant. Take a moment to consider her words, and what sort of servant you would like to be in the kingdom of God.