The X Factor episode 17 recap: Final 9 live show, November 22, 2011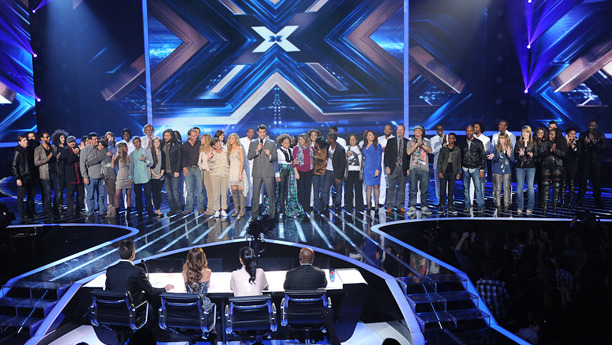 Welcome to The X-Factor Thanksgiving Special! Tonight, the final nine acts perform to earn your votes. Last week saw the ouster of Stacy Francis from Nicole's Over 30's category. It's Inspiration Night where everyone sings a song for someone who has inspired them in their lives.
Steve Jones tells us that only seven of the nine acts will make it through the next round, so two acts will be eliminated tomorrow night. There's a little chatter about "Astro-gate", with L.A. saying that Astro is a kid that comes from a tough background and he expects a turnaround. Steve asks Simon what he's thankful for on Thanksgiving and typically Simon's response is about Simon, "I'm thankful for all the talent I've been given… Just to let everyone know, I haven't been invited to anyone's home yet." Now, is that surprising?
On with the show…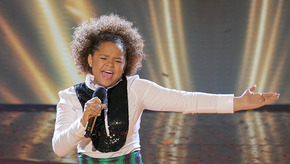 First up is Rachel Crow with Yolanda Adams' I Believe, dedicated with thanks to her parents for adopting her. We find out Rachel was born of a mother dependent on crack and it was quite a challenge for her family to take her in. Dressed formally in a full-length green plaid skirt over black slacks and a white collared blouse, Rachel sings with the accompaniment of a grand piano. It starts out softly then kicks in with a rock beat and a pair of choral groups. From the softly voiced beginning, she ups the tempo and volume in her song, finishing with a nice high note. L.A. says, "Rachel, you did it again… I really loved it." Nicole says Rachel has made a believer out of her. Paula goes even further, saying, "If anyone ever questions if there are angels that exist on earth, it is you." Simon says that she is one reason he is glad the show lowered the age minimum to 12 years old. Scorecard: A- for a genuine performance with fine vocals. Bubbling with charisma and gifted talent, she sings well beyond her age and experience.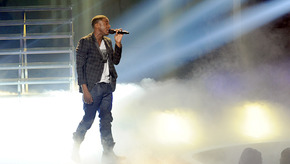 Second up is Marcus Canty with Boyz II Men's A Song for Mama, dedicated to his ma. He begins sitting on some bleacher steps in subdued lighting with a light accompaniment and soft voice. His mom's face is so hot, she's waving her hand to cool herself off. Marcus is singing with real soul here, very smooth in his voice. Marcus gets up, walks down the steps and briefly holds his mom's hand as he is singing. He finishes with a nice series of high notes. After the performance, he comes over and hugs his mom. Marcus is wiping the tears from his face. Paula says his song had passion and connection and she's glad his mom is here to watch his performance. Simon says, "I've got to be honest with you… tonight, for the first time, I actually felt a connection with you and the song." L.A. tells Marcus that he is as great as Babyface the songwriter and the group that sang it, Boyz II Men. Wow. Scorecard: A for a very touching and genuine performance that showed Marcus' true calling and vocal talent. He's all soul. Download this one, folks, it's a keeper.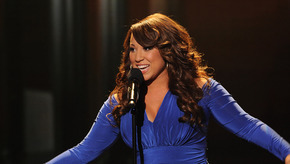 Up third is Melanie Amaro singing R. Kelly's The World's Greatest, giving thanks to God as a church singer in her community. She comes onstage in royal blue dress. The setting is church-like complete a large choir in white. She's comfortable on stage, leading the choir with strong and smooth vocals, the audience waving along. She looks up to the sky in finishing the song. L.A. says, "Girl, what am I supposed to say? I'm supposed to criticize that? That was really good." Melanie is so excited as she says, "I cannot tell you how good it feels to be here tonight on this stage. Thank you so much for bringing me back, Simon. You have no idea what this means to me." She's in tears of joy. All four judges stand up and applaud. Nicole gets up and invites Melanie to share a long hug. Paula says Melanie revealed her vulnerability and people could easily fall in love with her. Simon says the whole arrangement with the choir fit in well with the performance. He is very proud of Melanie and asks the audience not to let Melanie go home. Scorecard: A- for an inspiring, spiritually lifting performance that can probably be heard every Sunday.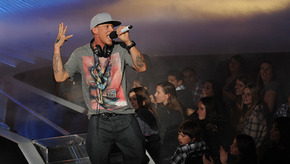 Next up is Chris Rene with the Beatles' Let It Be, mixing in his own song, Young Homie, which he sang at his first audition. He dedicates the song to his rehab counselor, Tim Fry. We find out he had a horrific car accident while under the influence and could have died. From there, he went straight from the hospital to rehab to get his life back in order. He starts straight into a rap beat, headphones and ball cap on as fashion accessories. He leaves the fogged stage to approach the audience, behind the judges. The audience is connecting, singing along, "Ah, yay, yay!". The crowd loves it. Nicole says it was a powerful performance. Paula says it's nice that he got back to the place where they first fell in love with him. Simon didn't like the first half of the performance, but really liked the second half. Simon adds, though, that Chris may have just helped thousands of people who may need to turn their life around. L.A. ends the comments by saying that Chris has a tattooed word on his arm that says 'Believe' and he believes in Chris. Scorecard: B+ for a good performance by Chris that the crowd also got into. Vocally, it wasn't extraordinary, but his life story certainly is.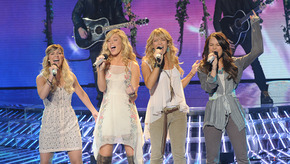 Fifth up are the four gals comprising Lakoda Rayne, singing You Belong with Me by Taylor Swift. Dani Knights and Hayley Orrantia both thank their fathers, Paige Elizabeth thanks her boyfriend, and Cari Fletcher thanks her grandma. They sit on vine-covered swings with a pair of acoustic guitarists on each side of them. As usual, each of them get a solo piece to go along with the group choruses. They get up off the swings and flank the judges in a bit of ad hoc choreography. They still don't quite click as a group although you can tell they're all talented in their own right. Considering that they were formed from individual acts into a group just after auditions, they make a good try of it. L.A. says they finally managed to drum up some excitement. Nicole tells them, "I felt like I was watching you in concert." Simon goes further to say, "This is, by far, your best performance today." Now Paula's crying, telling them "You've proven to me the sky is the limit." Scorecard: A generous B for a reasonably good group performance, although they're still not quite recording studio album or concert ticket material.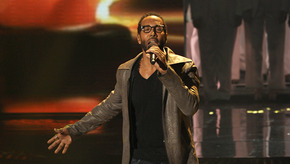 Up next is Leroy Bell, dedicating his performance to his late mom Janice with the song Angel by Sarah McLachlan. Leroy begins the song sitting on a stool under the spotlights. A light keyboard accompanies his soft, yet clear voice. He then stands up and delivers the song in a stronger voice with a choral backup. It's a short, but sweet and succinct performance. L.A. says it was a good performance but not his very best performance. Paula disagrees, saying she thought Leroy gave a beautiful performance. Simon gives his thumbs up, saying "This is the first time I actually feel that you meant every word. I got to know you more. I thought it was a fantastic tribute to your mom and I really think you made your mark this week." Nicole says that she's proud of Leroy for not holding back. Scorecard: A- for a fine, genuine tribute to his mom. He's got the voice and passion to excel.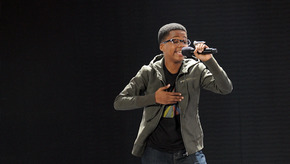 Astro is in a bit of a pickle after getting criticized for his attitude in last week's "Astrogate" results show. Astro dedicates a version of Jay-Z's Show Me What You Got (with his own lyrics mixed in, as usual) to his fans. He thanked his supporters for sending him words of encouragement. He admits that he could have handled himself better and apologizes for letting people down with his questionable behavior on last week's results show. Let's keep in mind that he's still just a kid with a lot to learn. He performs his usual rap routine, firing his words like bullets out of a machine gun. He's ripping it out with a lot of shout for his "Astronauts". The crowd applauds. After the performance, he says that last week, "he had a moment" and hopes his Astronaut fans support him. Nicole was very proud of him and Paula says that he's on his way to becoming "prolific". and Simon told him, "I admire you. You know, I do because we all have tantrums… but you know what? The music industry needs unpredictability." L.A. is glad that he did the "necessary thing" and apologized and encourages Astro to keep doing his very best. Scorecard: B- for a highly predictable Astro performance dedicated to his fans, but leaving anyone else out. Either you like the Astro rap thing as an Astronaut, or you don't as an Astro-not.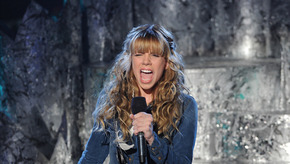 Next to last tonight is Drew with Demi Lovato's Skyscraper, dedicated to her best friend Shelby, going all the way back to second grade in school. They do all of the girly-girly things together, supporting each other when others won't. For once, the wardrobe crew didn't mess up, leaving her in slacks and denim jacket. Standing on a raised platform, she gives an emotional performance in her trademark stellar voice. She comes off the platform and the song kicks in along with her raised voice. She finishes the song with the voice falling almost into a hush. The crowd likes it. L.A. begins with some criticism, particularly for "her mentor" (Simon). He says that he doesn't get why Simon would allow her to do music that wasn't appropriate to her age, more for a 40-year older instead of a 15-year older (Huh? Aren't good songs supposed to be timeless — and ageless? And isn't Demi Lovato, who wrote this song, rather young herself?)
The crowd is restless, on the verge of booing outright. Simon is not pleased. Drew responds gracefully, but firmly, "That's not the point. This song actually means a lot to me no matter how old I am because it goes out to every girl. Every girl needs a best friend." In short, she did Simon a favor by effectively telling L.A. to shut up. Nicole and Paula, of course, loved it, both saying everyone needs a friend. Watch out, Simon's next and he lays it on L.A. "I'm sick to death of your pointless, stupid criticism. It is unfounded. It is inaccurate. This is a young girl song. You are talking complete and utter rubbish." Slam dunk! L.A.'s trash talk just won't cut it against Simon's crisply cut and witty British put-downs. Uh, guys, we're running out of air time. Paula breaks it up and we finally see a flicker of emotion on Steve Jones' face in a moment of exasperation. With Drew all smiles (she's cute when she smiles like that!) in a I-told-you-so pose, we cut to the next commercial. Scorecard: A- for a superb tribute to a best friend in a voice that is truly her own. L.A., on the other hand, might find himself doing something else on the next season of The X Factor if this keeps up.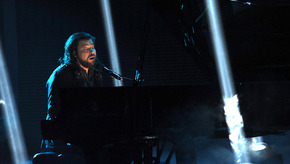 Last up in the pimp spot is Josh Krajcik, performing the Rolling Stones' Wild Horses, dedicated to his 13-year old daughter, Rowan. For the first time on this show, a contestant plays a musical instrument to go along with their performance. Josh is playing a grand piano shrouded in fog and surrounded by a dozen or so spotlights in the darkness. It's just him and his piano accompaniment, as simple, yet heartfelt as it can get. He looks like he belongs on stage, as if at a sold-out concert. The crowd gives a standing applause. L.A. tells Josh, "You have the right amount of everything." Paula says he is larger than life, bigger than the song. Simon says, "That's what it's all about. It's about a great, great song, a great voice, and you meant every word you sing." Nicole is on the verge of breaking down as she tells Josh, "Beyond this competition, I strongly believe that your music can change the world." Wow. Scorecard: A for a man totally in his element with an incredible tribute to his daughter.
And that's all for tonight, folks! And a good one at that. There were some great performances tonight, separating the ordinary from the extraordinary.
The results are tomorrow night! Only seven of nine acts will make it through. Stay tuned!