The X Factor episode 18 recap, Final 9 results show, November 23, 2011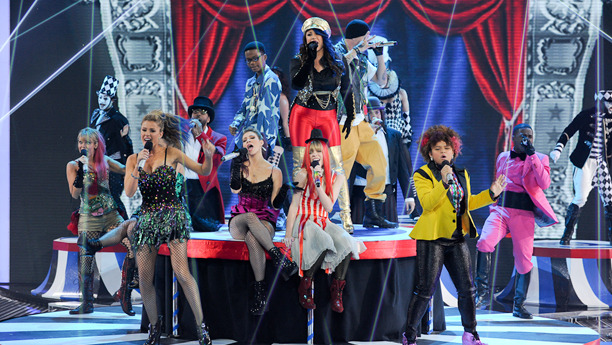 Welcome to The X Factor Final 9 results show! Tonight, not one, but two acts will be going home. By the end of the night, we will know who the final seven acts are that make it through to next week's show.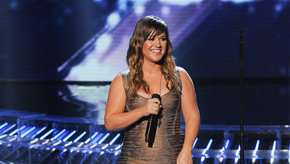 Right from the start, Kelly Clarkson begins the show with her new hit What Doesn't Kill You from her new album Stronger. We don't get any close ups of her in her gold dress at first. She is on stage with "STRONGER" showing up with a fist in vivid lights in the background. At last we get a close up as we listen to her performance. Both the crowd and the judges like it with a long round of applause.
In a backstage clip, we see Simon Cowell and L.A. Reid still feuding (and fuming) over L.A.'s comments about Drew's performance of Demi Lovato's Skyscraper. Simon tells L.A. that he's really annoyed and then shoos the camera away. L.A. might be looking for a new job next season if they don't make up soon!
Up next is the the group performance, otherwise known as the Pepsi Choice Performance. Fans of The X Factor got to select choreography and outfits for each of the contestants with rather bizarre results. Lesson learned — don't leave decisions up to the voting American public.
The group sang a mix of Pink's Raise Your Glass, actually raising their glasses while sitting around a swirly rotating table, along with So What with a circus arrangement. All of the flashing lights and lasers dancing around is migraine inducing. It's so distracting that we completely miss the vocals in the performance.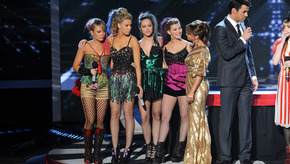 Without delay, we get to the first round of the results. Lakoda Rayne and Drew are called up to find out which of the two will be the first to be eliminated. This seems obvious (Drew? Are you kidding us?), but you can never trust the voters. Steve tells us that Lakoda Rayne is the first act of two acts to go out tonight and they're quickly sent packing. Thus goes the last of Paula's acts in the Groups category.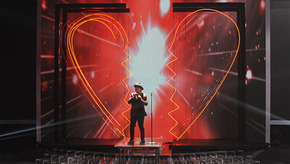 Tonight's second guest performer is Bruno Mars with his latest hit, It Will Rain. There's a large red neon-lit broken-heart throbbing along with the bass drum in the background as he sings. He remains behind the microphone during the entire performance as rather extreme visual lighting effects flash throughout. Not bad, and the crowd loves it.
"Okay, back to the results," Steve reminds us. Based on the votes, five of the seven remaining acts are automatically sent through to next week. "In no particular order" (as usual), Chris Rene, Rachel Crow, and Josh Krajcik make it through before the commercial break. After the return back to the show, Steve Jones tells us Melanie Amaro is the fifth act to make it through. Will Astro make it after last week's debacle? Steve gives us a run down of the judges' comments last night and… yes, Astro the sixth one to be called safe for next week.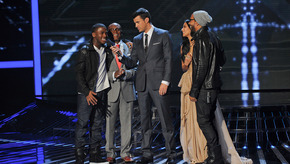 This leaves two guys who have never been in the bottom two before, Marcus Canty and Leroy Bell. Steve Jones calls it "unfamiliar territory" for both of them (with 'territory' pronounced in his characteristic accent) . Steve asks Marcus how he feels. "I'm feeling kind of funny, I've never been down here before," Marcus replies. When Steve asks how Leroy is feeling, Leroy responds with a single word: "Scared."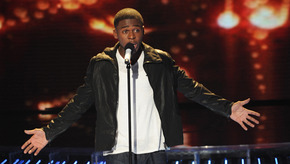 The first to sing for his survival is Marcus with Christina Aguilera's You Lost Me. With the first line of the song being "I am done…", we have to question his song choice for the occasion. Yikes, it's almost as if he is actually singing his swan song. Nonetheless, he gives a fairly good performance that showcases his vocal abilities. Scorecard: B for a fairly good performance, although it may have not been the best of song choices given where he's at.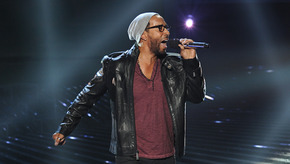 Leroy is up next with the Beatles' Don't Let Me Down. It's a fairly good song choice that fits in with his style and vocals. He keeps it simple, stepping up close to the judges' table as he sings with passion and conviction. The crowd is clapping along with the beat as he approaches the edge of the stage. Oh, oh, don't let me down. Scorecard: B+ for a nice rendition of the original.
Now it's time for the judges to decide between these two guys. It looks like it could go either way.
L.A. says, "It's a funny thing, I happen to really like both of these guys." He says Marcus has been consistent while Leroy has the "sizzle factor". In the end, he thinks Marcus has the "star factor" and he votes to send Leroy home. As Leroy's mentor, Nicole stands by him and sends Marcus home. After a brief explanation of how she liked Leroy's performance better, Paula also chooses LeRoy for to stay and to send Marcus home. It's now 2-1 for Leroy to stay and Marcus to go home and Simon will cast the deciding or tying vote.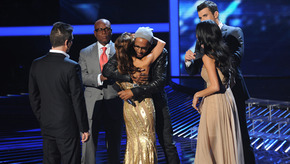 Simon realizes that if he votes for Leroy to stay, Marcus is out. If he votes the other way, it's a tie which will be decided based on the actual votes. Simon decides, "I'm gonna let the public decide tonight" by voting against Leroy and setting up the 2-2 tie. And the guy with the lowest votes is… Leroy Bell! Steve congratulates Marcus for making it through.
Leroy accepts the result gracefully. "I'm actually feeling okay," he says. "It was a great ride. It was a wonderful journey. I learned a lot. I gave it my all tonight and, um, I'm okay." He gets hugged on stage as a send off. He also gets a chance for some last words, with which he thanks everybody. It's very likely we haven't heard the last of him.
And so ends tonight's double elimination results show, folks. Seven acts remain to vie for the final five, which means two more acts will be sent home next week! Stay tuned!