The X Factor episode 16 recap, Final 10 results show, November 17, 2011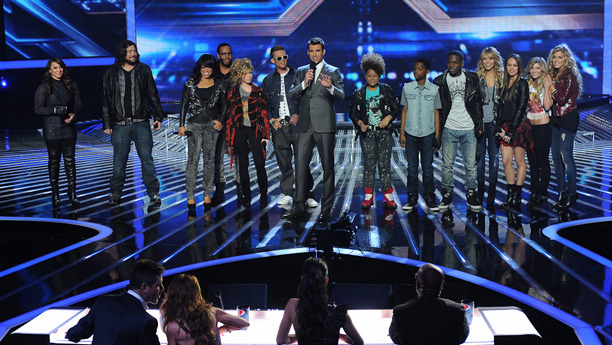 Welcome to The X Factor Final 10 results show! Tonight, the two acts with the fewest votes will be revealed and they will have to sing it off with one act going home. By the end of the night, we will know who the final nine acts are that make it through to next week's show.
Take note! The next live show is on Tuesday, November 22 instead of on Wednesday due to special programming during the Thanksgiving holidays. The results show will be on Wednesday instead of Thursday.
The show gets on the road quickly with the group song, We Will Rock You. Shouldn't they have done this last night? Astro, of course, can't rock and raps out his lines up in front of the judges. It appears that the lead vocals are live this week. As a whole, it wasn't a horrible group performance, but not worth the bandwidth to download.
Steve asks Simon if last night's performances rocked. Simon says apart from his own contestants, two others stood out — Josh and Astro. Well, he got half of that right.
After a several minutes of clips from last night's performances and judges' comments we get the beginning of the results. LeRoy and Lakoda Rayne are the first two through. Of course, Paula is delighted!
More results after the break. But first, it's time for some filler! The contestants go out for a photo shoot, which actually turns into a promotion for Sony cameras. They all get their own cameras to play around with. Get yours this coming Black Friday!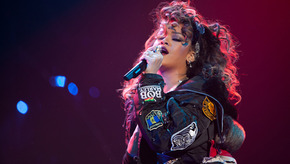 Now it's time for tonight's guest act. Rihanna takes the stage to perform her new single We Found Love. She starts out behind a chain link fence. Then she steps out on stage in her funky torn jeans and jacket over a bikini top, surrounded by dancers. She sounds rather nasal in this song and is almost drowned out by the loud musical accompaniment. She finishes the song with some guy grabbing her waist from behind. Prompted by Steve Jones, Rihanna has some advice for the contestants: "If you love it, it never feels like work."
More results come (again, "after this break"). Chris, Melanie, Josh and Marcus are declared safe. Drew, Stacy, Rachel and Astro are left and it's probably not too hard to guess who the bottom two are out of this group.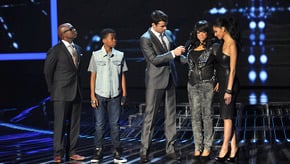 After another break, we get the next round of results. Drew is declared safe and she bawls on Simon's shoulder. Now the young and impressionable Rachel is sobbing, Stacy looks sickly pale and Astro looks stunned. Rachel Crow is the last one to be declared safe and she hugs Simon in a huge release of relief. This leaves Astro and Stacy in the bottom two. Stacy looks awful at this point, while Astro shows a defiant attitude with his comments, like how could he possibly be voted in the bottom two? He looks angry.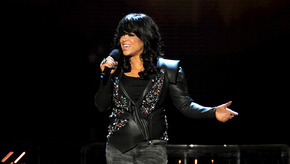 Stacy Francis takes the stage first with Amazing Grace, which should be right up her alley. Yikes, it should be, but it isn't tonight. Full of vibratos, there's hardly a smooth note, with some screeches thrown in where a good long note should be heard. If you've heard enough versions of this song before, this performance is less than inspiring. Scorecard: C for a very unsteady performance that carried none of the power, emotion or effect of the original. It's clear her nerves are about shot in singing for her survival.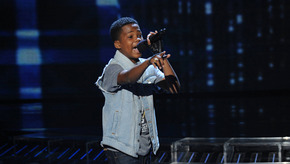 Astro is next with Never Can Say Goodbye., but not before he throws out a few insulting comments. "Yo, yo, yo! I really don't want to perform, I don't think it's necessary." An irritated L.A. tells him that he's come a long, long way. Astro asks the audience if they think he should perform and there are a few cheers. So he performs the appropriate song and it comes out like all of the rest of his performances do. Beat the bass, tap the drum, and rap every line with a finger waving. (You'd think that if he thought could get away with it on tonight's live show, it'd be the finger.) Scorecard: C+ for the usual rap trap. And don't like the entitled attitude. He phoned this one in.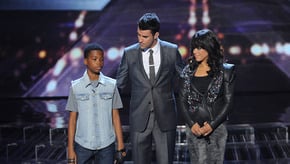 Now it's up to the judges. A mildly angry L.A. says it's about attitude and calls out Astro for looking like a quitter. But he still sticks with his guy and sends home Stacy. Nicole says she doesn't know about Astro and she is sending him home. Paula is sending Stacy home. It's 2-1 Stacy going home. Now it's up to Simon, who says to Astro, "I don't like your attitude right now… you are showing disrespect to your mom, you are showing disrespect to the audience at home, and I don't like it." The audience actually cheers with Simon's comments. Astro remains defiant with his response about "people who don't want me here" and the audience starts howling, not quite booing — yet.
If you look closely, Steve Jones quietly lays a hand on Astro's shoulder and says a few words in Astro's ear which the camera catches. We don't know what he said, but it could be something like, "Shut the bloody hell up, lad, lest Simon ruin what hope you have left of a music career forever." After a bit more of a lecture from Simon, Astro apologies.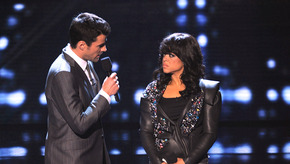 Finally, Simon decides to send home Stacy. She apparently already saw it coming and has no reaction to his decision apart from being stone-faced. She finally opens up and says she had a great journey and wants to thank Simon for the opportunity.
Whew, this is one time when we can be glad the show is over with!
Next week, nine acts perform. Don't forget the live show is on Tuesday night with the results on Wednesday night!